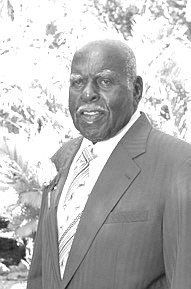 Edward "Bobby" Francis Glinton
unknown - unknown
The State Recognized Funeral Service for the late Edward Francis "Bobby" Glinton, Former Member of Parliament, aged 81 years, of Season Street, Canterbury Park, will be held on Friday February 14th, 2020 at 11:00 a.m. at Christ Church Cathedral, George Street. Officiating will be The Right Rev'd Laish Z. Boyd, assisted by Rev'd Fr. Dwight M. Bowe, Canon Crosley Walkine and Canon Anon Atma Budhu. Interment will follow in St. Mary's The Virgin Church Cemetery, Virginia Street.
Left to cherish his legacy of dedication, service and excellence are his Wife: Catherine Ellen Glinton née Smith; Sons: Warren Glinton, Rico Glinton, Juan Glinton, Jason Glinton; Daughters: Min. Vernita Lopez, Patrice Fawkes, Shereen Pinder, Valencia Glinton, Joan Marc; Sons in law: Eric Lopez Sr., Kent Fawkes, Hazon Pinder; Daughters in law: Yvette Glinton, Shannon Glinton; Grandchildren: Eric Lopez Jr., Cemone Glinton, Rashad Butler, Mycquel Glinton, Shazet Strachan, Shazia Strachan, Dr. Paige Burrows (Alexis), Tajnique Fawkes, Dr. Sade Lopez, Shantelle Lopez, Lashan Glinton, Tavon Fawkes, Shanee Armbrister, Alex Glinton, Tenaj Glinton, Tenai Glinton; Great Grandchildren: Darius Tyler, Scarlett Burrows, Jordynn Watkins; Nieces: Michelle Roache, Denise White, Melony Mckenzie, Selina Hepburn, Sophia McKenzie, Gigi Darville (Anthony), Gina Evans, Tara Aponte, Karen Davis, Kimberly Minus, Kay Minus, Katrina Minus, Kelly Minus, Rowena Johnson, Rosemary and Anne Glinton, Jessica Kerr, Michelle Kerr, Franscesca Paonessa; Nephews: Raymond Ferguson (Lynn), Don Ferguson, Steven Minus, Kevin Minus, Anton McKenzie, Vance McKenzie (Kenya), Elgin Hepburn (Monique), Bernard Ferguson, Kevin Ferguson, Atwell Paonessa, Giorgio Paonessa; Sisters-in-law: Beverly McKenzie, Diana Hepburn, Eleanor Minus; Cousins: Calvin Brown, Roscoe Glinton; Special Family Friends: The Rt. Rev. Laish Zane Boyd Sr., Father Dwight Bowe and the entire St. Mary The Virgin church family, The Venerable Harry Bain, Rev. Cannon Atma Budhu, Cannon Crosley Walkine and the St. Matthew's Anglican Church Family, Father Chester Burton and family, Father Delano Archer,   Rev. Salathiel Rolle and family, Archdeacon James and Rev. Angela Palacious, Rev. Cannon Atma Budhu and the Epiphany Anglican Church family, Rev. Dr. Vaughn and Dr. Wendy Cash and the entire Evangelistic Temple Church Family, Philip 'Brave' Davis QC and family, the Hon. Perry G. Christie and family, Senator the Hon. Frederick Mitchell and the entire Progressive Liberal Party. The Hon. Hubert Ingraham & Family, Members of the Trade Union Congress, National Workers Co-operative Credit Union, and the Bahamas Hotel, Catering and Allied Workers Union. David Knowles and family, the Mortimer, Stubbs, Cash and Munnings families along with the entire Canterbury Park community, Iris Thompson and family, Nishan Patton, Deborah Charlton and family, Legna Rodriguez, Judith Smith, Sabrina Usher, Alexandria Fernander, Barbara Cash and family, Flora Hanna and family, Stafford and Joan Coakley, Beverly Smith and family, Frederick Laing, Linda Jarrett, Claudette Ching  and the entire Chippingham community, John and Evaneth Johnson, Lavardo and Charlene Butler, Franklyn and Sandra Thomas, Sylvia Kemp, Tanya Sawyer, Janet Thompson, Dr. Clive Gaskins, Earl Miller, Montgomery Nazon, Dr. Geoffrey and Mrs. Sweeting, the staff of the Princess Margaret Hospital,  Philip and Anita Beneby, The Major family, The Butler family, Mervin Sweeting and family, the Montague Beach Domino Crew, the entire CIBC family, St. Augustine's College Classes of '75, '79, '81, '83, '86, '87. The Hammerin' Hank Crew, The Management and Staff of Security Services (Bahamas) Ltd. and Armoured Express (Bahamas) Ltd. The Management & Staff of Banco Votorantim Nassau Branch, The BAF Financial family, the The Stor-It All family, Annismae Rolle and family, Denise Major and family, Lucianne Petit-Homme, Burcil and Donna Miller, Mona Culmer, Margarita Simmons, Plato and 'Dee' Thompson, Barbara Bellot and family, Patsy Curry and family, The Major family, Kenria Russell, Theresa Jones, Denise Rolle, Patty Sherman and family, National Supreme Council and Commonwealth Masons and OES, Hazel Pinder and family, Kenya Saunders, Ed Bethel, Charles Carter, Quebell Rolle, Roosevelt Finlayson and family; If we did not mention your name, we sincerely apologize. 
Parking will be available on the lower grounds of Government House. 
The Body of the late Edward Francis "Bobby" Glinton will lie in state in the Foyer of the House of Assembly, Parliament Square, Bay Street on Thursday February 13th, 2020 from 1:00 p.m. to 7:00 p.m. There will be No Viewing at the Cathedral.