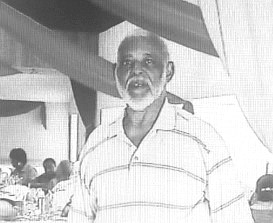 Gurth Andrew Ford Sr
unknown - unknown
Funeral Service for the late Gurth Andrew Ford Sr. aged 81 years, of Weybridge Road, Highburry Park will be held on Saturday February 15th, 2020 at 10:00 a.m. at Holy Cross Anglican Church, Highburry Park, Soldier Road. Officiating will be Fr. Peter Scott assisted by other ministers of the Clergy. Interment will follow in Woodlawn Gardens, Soldier Road.
Left to cherish his fond memories are his sons Gurth Andrew II, and Mark Zachary Ford, granddaughters Gurcha Angelina Ford, Christen Adia Ford, and Kaypreana London Johnson; Other survivors includes; Brothers- in -Law: Sir Orville A. Turnquest, George I. McCartney, His Grace the Most Rev'd. Patrick C. Pinder, The Rev'd Fr. Ivan R. Brown, and Rev'd Samuel W. Pinderl; Sisters- in- Law: Roberta W. Sands, Frederica G. McCartney, Veronica D. Grant, Dr. Jean M. Turnquest, Leslie E. Archbold, Antoinette Miller, Olga Brown, and Gail Pinder; Nephews:  Ernest Harrigan Jr., Frederick N. Howell (Ivy), Dane A. Howell, Robert D. L. Sands (Michelle), Dr. Basil G. L. Sands, Hon. Dr. Duane E. L. Sands (Laurika), Bryan I. McCartney, George I. McCartney Jr., Orville A. T. Turnquest (Shawn), Wendel C. Grant (Davinia), Cyprian Turnquest (Cheri), Ian Brown, Michael Brown, Faruk Pinder (Erica), Paul Cartwright, Robert Cartwright, Solomon Knowles, Toby Archbold, and Michael Archbold; Nieces: G. Diane Stewart, Renée D. Lockhart, Caryl A. E. Lashley (Charles), Michele C. E. Fields (Edward), Donna L. Adderley, Pamela F. McCartney, Dr. Ilsa C. Grant-Taylor, Roberta R. Albury (Prince), Jean M. Turnquest, Wende N. Hanna (Brian), Kimberly E. Miller, Vanessa R. M. Hall (Anthony), Indira Pinder, Samantha Pinder, Helga Knowles, Josette Archbold, and Rose Archbold; Cousins: Fred A. Mitchell Jr., Robert I. Mitchell, Carla G. Mitchell-Seymour (Carlton) Seymour, Matthew T. Mitchell (Cheryl) and Marva T. Mitchell (John); Numerous Grand Nieces, Grand Nephews, Godchildren and other relatives. Also left to cherish his memory are special family and friends: Cheryl Moxey-Ford and family, Larry and Kenneth Kirton and family, Karen Orange (Daryl) and family, Frederick, Mark and Stacey  Deveaux and their families, Sir Cyril & Lady Alicia Fountain and family, Mr. & Mrs Andrew Smith and family, Mr & Mrs. William Smith and family, The Family of Mr. Nathaniel (deceased) and Joycelyn Dorsett, Mrs. Ruth Malcolm and family, Mr. Alec Gibson and family, and the Highbury Park Community past and present; Mr. Swithun Burrows and family, the family of the late Thomas Cleare, the family of the late Benson McDonald, the Supplies Department of the Ministry of Education, the Holy Cross A.C.M., the Lay Readers Guild of Holy Cross Parish, and the entire church family of Holy Cross Anglican Church; the members of the Most Worshipful Prince Hall Grand Lodge of the Commonwealth of The Bahamas; the Members of the Music Section and members of the One Family Junkanoo and Community Organization; the Anglican Diocesan Marching Band; the Professionals Marching Band; the Administration, Staff and Students of the LJM Maritime Academy, The University of the Bahamas, Omega College and Synergy Training Center, the Carifusion Production Company, and members of Superior Productions.
Friends may pay their last respects at Bethel Brothers Morticians & Crematorium, #44 Nassau Street on Friday from 10:00 a.m. to 6:00 p.m. and at the Church on Saturday from 9:00 a.m. until service time.