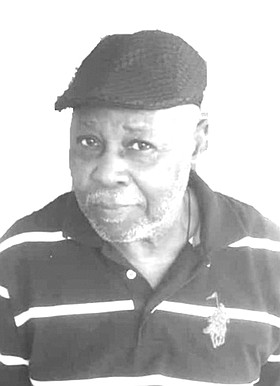 Wilfred Milford
unknown - unknown
Wilfred Milford
Age: 68
Of #1 Garden Hills, New Providence and Formerly of Matthew Town, Inagua.
Funeral service will be held on Friday 21st February 2020 11:00a.m. at Curry Memorial Methodist Church, Zion Boulevard, Nassau, Bahamas.
Officiating will be Pastor Tezel Anderson.
Cremation Will Follow
Left to cherish found memories are his daughter's; MonaLisa Milford-Stuart, Mae Milford- Albury, Shavonne Lewis- Kemp & Manasha Milford-Bain.
Sons-in-law: Don Stuart Sr., Tomico Albury, Michael Kemp & Patrick Bain III
Grandchildren: Kevanna Bosfield, Brittany Minnis,Kamuel, Tanjanique, Tahjne, & Kaymika Milford, PC 4166 Luchano Stuart Munroe, Ashanti, Donte, Don Jr., Denim & Dannon Stuart,Patrick & Meniya Bain, Criston Roker, Mickayla, Mickayva, Mariah, & Myanique Kemp,Kentyria Bowles and Shawnell Thompson.
Grand son-in-law: Keithon Bosfield, & Kareem Minnis Sr.
Greatgrand children: Kareem & Katelyna Minnis, Keiarra Bostfield
Sisters: Marilyn  Maria, Katherine Rahming, Marva Dean, Monnette Cartwright, Evelyn Hanchell, Coleen Hamliton, Candice Hanchell, Darnell Fulford and Kasham Durham
Brothers: Edison, Kervin, Walter, Raybrun & McAllister Hanchell, Poence Bodie, Raysene Milfort & Trevor Saunders
Sisters in-law: Rejoina Gray, Evamae Bullard, Ruth Maskel, Ella and Angela Curry,Christine Hall, Susan McKenzie, Norma Hanchell, & Stacey Hanchell, Sharon and Rosanna Curry
Brothers in-Law Leroy, Eric and Anthony Curry, Stanley Vanzeylen, Anthony Cartwright, Adrian Dean & Troy Hamilton
 
Aunt; Diana Richburg
Nieces & Nephews: Roderick, Christopher, Chantique, Patricia Renee, Sharon Edison, Benjamin, Kelia, Thea, Marvin Jr., Davardo, Antonia, Ericka, Shonika, Shakita, Tearra, Lakeithra, Alleyandra, Alexandra, Olana Sr, Hadrian, Renard, Robert, Giovanni, Odessa, Kaisha, Ora, Kervin Jr, Ricardo, Shantee, Edrico, Edison Jr, Symone, Christian, Christa, Alex, Maureen, Walrico, Walter jr. Walkita, Walvin, Willow,Durell, Adena, Adeesha, Adrianna, Adria, Larenta, Trenika, Trevez, Fabian, D'andre, Myles, Candia, Candace, Willandra,  Anthony Jr., Antonesha, Dimitrie, Ludina, Robria, Rufus Jr, Rashawn, Antoineice, Anthoinesha and Dwayne Jr.
Other Relative & Friends: Sylvia Smith & Family, William & Veronica Bain & Family, Frederick Ingraham & Family, Abby & Family Stephanie Rolle & Family Bishop Walter Hanchell & Family, Pastor Benjamin Ferguson & Family, Marvin Williams & Family, The Dean Family, Mrs. Colbey & Family, The Management & Staff of Rubberband Tries.

Friends may pay their respect at Grace Funeral Home, #36 Rosetta Street on Thursday 20th February 2020 from 10am to 5pm and again on Friday at Curry Memorial Methodist Church, Zion Boulevard from 8am until service time.