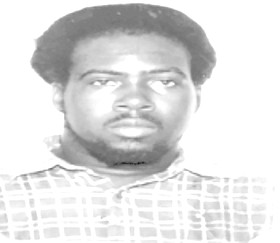 Ashely "BOBO" Darren Dorsett
unknown - unknown
FUNERAL SERVICE
FOR
The Late Ashely Darren "BOBO" Dorsett
Age: 39yrs
Funeral Service for the late Ashley Darren Dorsett, of Curtis Road, Gambier,will be held on Saturday February 29th, 2020 at 11:00am at The church of God Of Prophecy Curtis Road, Gambier Village, Nassau, The Bahamas. Officiating: Bishop Gersham Pratt, Assisted by: Bishop Sterling Moss & Pastor Gladstone Thurston. Interment will follow in the Church's Cemetery, Gambier Village.

Left To Cherish his Loving Memories are his One Sister: Minister Valencia Dorsett- Huyler One Brother: Alwrick Dorsett Two Sisters-in-law: Patrice and Stephanie Dorsett Nephews: Ronx, Naasson and Zarrusho Huyler, Gazzlyn Colebrook , Maxwell Russell, Megel and Derek Jr. Dorsett; Nieces: Excie, Mildressha, Nerenal, Dominquie Dorsett and Nirene Clarke; Uncles: Alexander Jack, Leon Thurston, Neville Seymour and Richard Williams. Aunts: Lillis, Adlene, and Aretha Thurston, Geraldine Williams and Rosemary Seymour; Grand-Aunts: Mother Julia Huyler, Deaconess Alsaida Hanna and Marina Dean; Cousins: Pastor Joan Sampson, Rev Denise Bethel of Cat Island, Minister Ladyia Ambely, Minister Kirkwood Brennen, Chef Richard Delancy, Malvise Mackey, Theresa Rigby. Sonia Nottage, Adrian and Olgin Thurston, Holly & Peter Rolle, Lakeisha and Chris Tucker, Henry , Gillian & Charles Thurston, Neressa, Neron, Lana and Abigal Seymour, Iva, Sandra, Tan, Inez, Bethsheba, Jerome, Caleb, Brendalee Martha and Barbara Dorsett; Sandra Knowles, Gina Smith, Gail Fox, Monique, Phillipa, Login Robert Sr., Janet, Everette, Cyril and Andrew Thurston.
And a Host of Other Relatives and Friends Including: Andrew, Andre and Paul Nerenal, Carla and Carliecia Gideon & Carlyn Colebrook, Micheal Hopkin, Pastor Gladstone, Ruth & Shoey Thurston; Evangelist Antoinette Miller, Minister Mary Dean ( USA), Joanna, Cherry, Leo & Simon Dean, Andrea, Deno, Ladon, Antonio and Richard Delancy, Edward, Prince, Oliver & Luther Hanna, Dorothy, Elma and Howard Poitier, Deacon Janus Dean, Williamae, Wendy, Janet, William & Ornald Dean. Synovia & Jaydin Huyler, Mother Ruthmae Poitier, Mother Rose Green, Agnes Pinder, Mr Russell, Deacon Moses and Theresa Capron; The Culmers , Mackey, Smith and Saunder Families; Dion & Shantel Gardiner, Rossie, & Humes Williams, Nurse Valencia and Lavern Rolle, Nakeita and Debbie Poitier, Minister Dionno, Carnette, Henry, Jessica, Kimberly & Dean Poitier, James, Marina and Alexander Fernander, Bishop Sterlin & Barbara Moss, Pastor Jennie Deleveaux, Rev. Leslie and Gloria Rolle, Rev. Dr. Sandra Knowles, Bishop Gersham & Joycelyn Pratt, Judy, Marvin, Rose, Georges, & Georgette Mcphee, Audley and Carol Maycock, The Killarney Branch of The F.N.M, The Tropical Garden & The Entire Gambier Community.
Relatives and friends May Pay their last Respects in The "Jasper Suite" at Rock of Ages Funeral Chapel Wulff Road & Pinedale on Friday From 10:00 a.m. to 5:00 p.m. and on Saturday at the church from 10:00 a.m. until service time.