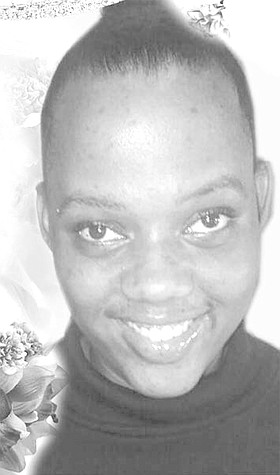 TRIEASHA SHACASMA CARTWRIGHT
unknown - unknown
Funeral Service for
TRIEASHA SHACASMA CARTWRIGHT, 27
Service will be held at JH Mackey Memorial Church of God, Cargill Creek, Andros, Bahamas on Saturday, January 25th, 2020 at 11:00 am. Officiating will be Bishop Abraham Mackey. Interment: Cargill Creek Cemetery, Central Andros.
Left to cheerish her precious memories: Loving Parents: Jeffrey and Barbara Cartwright; Siblings: Ebony Rolle, Shiraz Seymour, Jeffery Morley and Jordan Cartwright; Brothers-in-Law: Leovardo Rolle, Anthony Seymour; Niece and Nephew: Jayden Morley and Zaryn Seymour; Grandparents: Adline and Nathaniel Wallace, Victor and Vangeline Cartwright; Aunts: Laura Meadows, Shirley Leadon, Synthia Wallace, Patricia Wallace, Rosemary Wallace, Margret Castleberry, Drucilla Forbes, Nadia Wallace, Carla Wallace, Violet Knowles, Olga Cartwright, Jessica Cooper, Shonley Cartwright, Vonya Nixon; Uncles: Glister Wallace, Tavey Wallace, Derek Cartwright, David Cartwright, Tio Nixon; Grand Aunts: Mary Whylly, Sheilamae McCartney, Stephanie Meadows, Eva Rolle, Mary Meadows, Prescola Wallace, Sylvia Wallace, Agatha Wallace, Casey Edwards, Maquella Smith, Eunice Culmer; Grand Uncles: Randolph and Joe Meadows, Washington Wallace, Edwin Culmer, John Carey; Great Grand Aunts: Adline Fowler, and Florence Morley; Other Relatives and Friends: Adrianna Lowe and Family, Dewight Carey and Family, Dion and Marcia Hepburn, Rodrigo Wallace, Tavia Wallace, Glister Wallace Jr, Denzel Wallace, Justice Wallace, Latisha and Laneasha Leadon, Rupert, Shawn, and Dr. Rondell Leadon, Khadeja Clarke, Branville and Clementina Watkins, Delroy Meadows, Gary and Garanice Mackey, Osee Miller, Taquesha, Telson, and Gary Knowles, David, Kenwood, and Dakota Cartwright, Terry and Randy Alday, Chuck Mackey, Andrea Hall, Sharan, Audrey, Shanae Culmer, Sheryll Lightbourne and Family, Hilda Bowleg and Family, Cheryl Moss and Family, Victoria Seymour and Family, Dianna Beneby and Family, Linzie Louis, Maryann Brown, Velinda Rolle and Family, Renae Carey Dr. Philip Hyler, BARC Community and Tarpum Bay, Eleuthera Community.
Viewing is at the church from Friday at 6pm until service time.