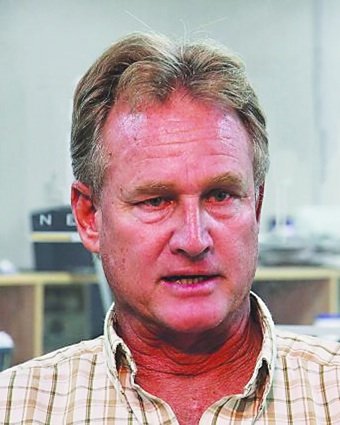 Stephen Wrinkle
Stories this photo appears in:

Bahamian contractors yesterday warned that a Grand Bahama concrete manufacturer's decision to shut down two of its units is "a big blow" for major commercial and infrastructure projects in this country.

Bahamian contractors "cannot control prices" because quotes on building materials are holding for as little as 48 hours, with one saying yesterday: "It's just the perfect storm."

Two ex-Bahamian Contractors Association (BCA) presidents yesterday warned that construction costs will likely increase up to 20 percent this year as cement became the latest product to take a hit.

A past Bahamian Contractors Association (BCA) chief yesterday voiced optimism the government's procurement reforms will deliver taxpayer value, adding: "We don't have the luxury of wasting money."
THE Bahamas "cannot afford" a repeat of the waste involved in the National Insurance Board's (NIB) $10.8m housing loan with the country "on its knees", two ex-Contractors Association chiefs warned.

Contractors yesterday warned their home building clients face "a hit to their pockets" in 2021 from an "on fire" construction materials market where prices have risen ten percent since the New Year alone.

The Bahamas faces "an economic implosion" within weeks unless the government relaxes the COVID-19 lockdown for domestic industries, an ex-Contractors Association chief warned yesterday. Stephen Wrinkle told Tribune Business that The Bahamas "doesn't

A former Bahamian Contractors Association (BCA) president says today's first construction industry payroll for seven to eight weeks will prove "a huge stress buster for lower and middle income families".

Two past Bahamian Contractors Association (BCA) presidents yesterday said Hurricane Dorian had "caught the government with its pants down" when it came to the industry's self-regulation.Both Leonard Sands and Stephen Wrinkle told Tribune Business tha

A former Bahamian Contractors Association (BCA) president yesterday questioned whether a controversial political activist is "the best candidate" for a key role in regulating construction.Stephen Wrinkle, pictured, told Tribune Business it was unclea

OUTSPOKEN contractor Stephen Wrinkle lamented yesterday that the local construction industry was "stuck in the spin cycle" in the absence of legislative policy that would mandate Bahamian participation in foreign direct investment (FDI) projects.

Here's a story that needs to be re-told in full. I knew the protagonist as a high school student in Queen's College more than 40 years ago, but have had no substantive dealings with him since then.

Bahamian contractors were yesterday said to be "very concerned" about Value-Added Tax's (VAT) potential impact on construction prices, one warning that many were already "hanging on by a thread".

STEPHEN Wrinkle's year-long prison stretch for stealing electricity was cut short today after he was granted bail in the Court of Appeal.

A Bahamian contractor yesterday said he had used an alternative construction method to build $5-$6 million worth of homes in the past two years, reducing client costs by 20-30 per cent through "the way of the future".