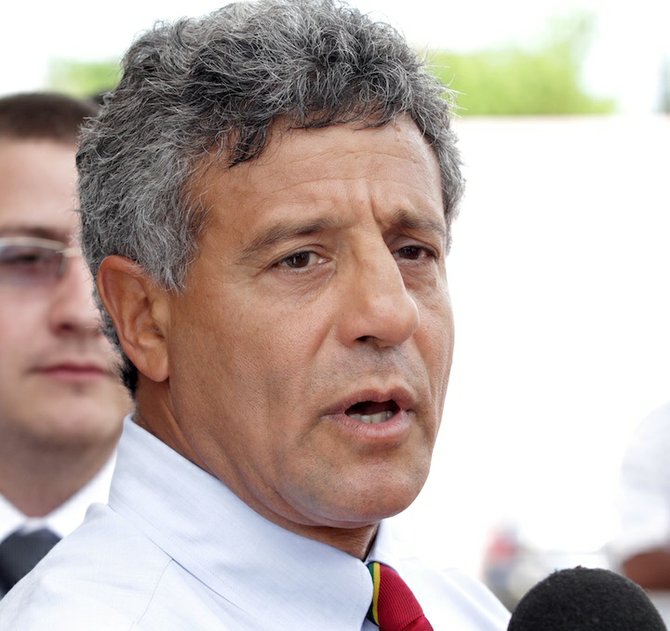 Stories this photo appears in:

The Government was last night bracing for an outspoken QC's latest Judicial Review salvo, after it missed his deadline to provide "an undertaking" that no decisions will be taken on Freeport's tax and economic regime.

HUMAN rights activists Fred Smith and Joseph Darville have condemned the government's newly revealed intention to require students of foreigners living in the Bahamas to have a school permit to attend classes.
GRAND Bahama Human Rights Association President Fred Smith has called on the government to pass a Human Rights Act and make it an offence to "abuse people hatefully in public".

ATTORNEY Fred Smith has bashed the government's "swift justice" initiatives and called the country's judicial system a "machine that is just moving forward to get convictions".

SAVE The Bays Director Fred Smith yesterday accused the government of pandering to the United Nations on the environment instead of effectively mitigating oil pollution after another spill was confirmed in the Clifton area.

SUCCESSIVE governments have not formally responded to more than 30,000 crown land grant applications, lawyer Fred Smith claimed yesterday. 

A well-known QC yesterday urged the Bahamas to implement a 17-19 per cent income tax on persons earning over $50,000-$75,000 annually, arguing that fears of widespread evasion were overblown.
A leading Bahamian law firm is seeking permission to appeal to the Privy Council on the grounds that Customs "had not abandoned" its position that Freeport 'bonded goods letter' renewals were conditional on prior year sales reports being filed with it.

FREEPORT – Attorney Fred Smith, QC, is urging Freeport licensees to unite in bringing a case against the government and its decision to impose new taxes under the Customs Management Act.

Freeport lost a $1 billion investment "solely" because the Government refused to approve a Business Licence, a leading QC calling on the Government to "stop tying a noose around the Grand Bahama Port Authority's neck".

Grand Bahama Port Authority (GBPA) licensees yesterday won another chapter in their battle with Customs over the Hawksbill Creek Agreement by the score of '2-1', a leading QC warning: 'We will not let this rest."

A WELL-KNOW QC yesterday said he was expecting instructions "any day now" to mount a class action lawsuit against the Government over new taxes, adding that, "Everything Freeport is supposed to stand for, the Government continues to suck from it."

The Grand Bahama Port Authority (GBPA) has been urged to stimulate investment by Nassau's business community, a top QC saying it needed to dispel the notion that Freeport was a "closed shop".

A well-known QC yesterday confirmed he has been instructed to launch Judicial Review proceedings against the Government and developers of the $5 million Blackbeard's Cay project, and accused Cabinet Ministers of reneging on assurances not to approve the development.

Attorney Fred Smith has appeared before magistrates today and pleaded not guilty to a single charge of causing harm.