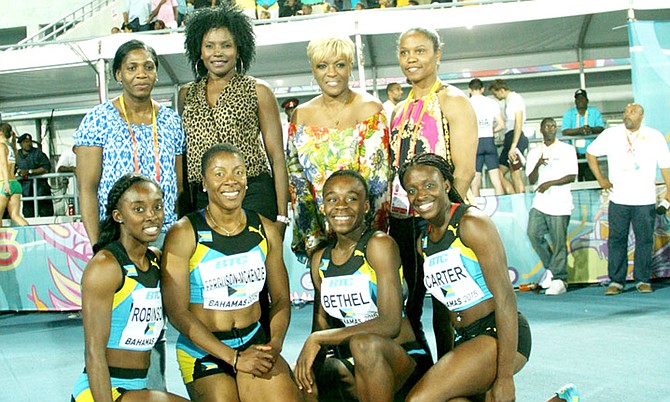 Standing (l-r) are 'Golden Girls' Sevatheda Fynes, Pauline Davis-Thompson, Eldece Clarke and Chandra Sturrup. Kneeling (l-r) are V'Alonée Robinson, Debbie Ferguson-McKenzie, Brianne Bethel and Tayla Carter during the 2nd IAAF/BTC World Relays at the Thomas A Robinson National Stadium in May.
Photo: Raymond A Bethel Sr/BIS
Stories this photo appears in:

ALTHOUGH she is busy with her job as an assistant coach at the University of Houston, sprinter Debbie Ferguson-McKenzie said she is not yet finished with her career and is looking forward to making a contribution to the revival of the women's 4 x 100m relay fortunes when she competes in her sixth and final Olympic Games in 2016.