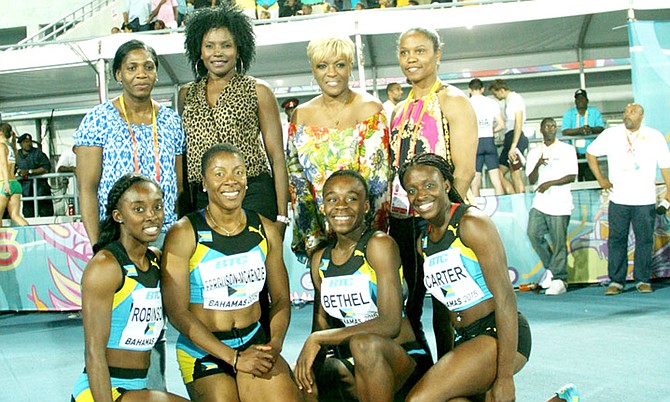 By BRENT STUBBS
Senior Sports Reporter
bstubbs@tribunemedia.net
ALTHOUGH she is busy with her job as an assistant coach at the University of Houston, sprinter Debbie Ferguson-McKenzie said she is not yet finished with her career and is looking forward to making a contribution to the revival of the women's 4 x 100m relay fortunes when she competes in her sixth and final Olympic Games in 2016.
Ferguson-McKenzie, 39, is juggling her time as the coach of the UH Cougars women's sprints and hurdles and training for a spot on the Bahamas team that will compete in Rio de Janeiro, Brazil, in August in what is expected to be her swansong after an Olympic career that started with her first appearance in Atlanta, Georgia, in 1996.
"So far, everything has been going excellent. You are always thankful being the only female on staff and they trust you to write the programme," said Ferguson-McKenzie, who works under head coach Leroy Burrell and alongside legendary assistant coach Carl Lewis at UH.
"It's really exciting. I love what I do and I'm just thankful for the opportunity."
With the demands of the job and the pressure of trying to compete at a high level beyond her prime, Ferguson-McKenzie said she is definitely going to call it quits after the Olympics.
"I really just want to help the women's 4 x 100m relay team. That's my goal. I think we have an excellent group of young ladies and so we should be able to put something interesting on the track," said Ferguson-McKenzie, who was in Nassau this past week on a recruitment trip for UH.
"Whether we call them Golden Girls part two or whatever, we just have to put the girls out there. We can talk all we want, but nothing is going to happen if we don't put them out there. So that is my goal. That is my vision. I want to see a women's 4 x 100 team in Rio."
With just a small window to qualify after missing an opportunity to do so when the IAAF held the second World Relays at the Thomas A Robinson National Stadium in May, Ferguson-McKenzie said it's going to be imperative for the athletes to find opportunities to get in some meets as the original Golden Girls did in their quest to be the gold medallists in 2000 in Sydney, Australia.
"We're not going to wait for the federation to say these are the meets that they will be sending us to. We would love to get in some meets on our own and go from there," said Ferguson-McKenzie, who intends to lead the crusade to get the job done. "There's a whole group of young sprinters that we have out there and we just need to make sure that they get a chance to qualify.
"I'm hoping that Anthonique Strachan gets a speedy recovery after her surgery. We have her, Q (Sheniqua Ferguson), Shaunae (Miller), Tynia (Gaither), Adanaca Brown, Deyvenne (Charlton) and the list goes on. So why not? We should have had one this year at the worlds in Beijing, but that's the past. We just have to look forward to the future."
At the IAAF World Relays, the women's team of V'Alonee Robinson, Tayla Carter, Brianne Bethel and Ferguson-McKenxie ran 44.14 seconds for second place in the B final behind Ecuador, who won in 44.14. Had the team made the A final, the Bahamas would have secured its berth in the Olympics.
Three of the top sprinters - Sheniqua Ferguson, Anthonique Strachan and Shaunae Miller opted to run the 4 x 200m in which they teamed up with Brianne Bethel. But a miscue on the baton exchange resulted in the Bahamas being disqualified as Nigeria went on to upset Jamaica for the gold while the United States of America didn't finish.
"Looking back, we can always say what if. But I felt that we had a better chance in the 4 x 100. People don't realise it, but the 4 x 200 is a little tricky and you could misjudge the speed coming in and going out," Ferguson-McKenzie said. "But Brianne is a youngster. I love her. She went out there and did the best she could.
"But I really think the senior athletes should have concentrated on the 4 x 100m, which would have given us a chance to run a 4 x 100 at the worlds. But like I say, it's either here or there. So we have to put that behind us and start to concentrate on getting qualified for Rio."
As the Bahamas' most decorated female sprinter, having won the Olympic 200m bronze medal in Athens, Greece, in 2004 and gold and bronze at the IAAF World Championships in Edmonton, Canada in 2001 and Berlin, Germany in 2009 respectively as well as the Commonwealth Games' gold in both the 100m and 200m in Manchester, England in 2002, Ferguson-McKenzie said she knows what it takes to compete at the elite level and she's willing and ready to go the extra mile.
"I'm up from 4am getting my training in and then I go on the job," she said. "It's important to me so I make sure I make the sacrifice to get it done. It's the norm. It's not easy, but that's what life is about, doing the impossible."
With the much younger athletes she mentioned expected to be gunning for a spot on the Olympic team next year, Ferguson-McKenzie said she has set her sights on coming home in June for the BAAA's National Championships and making the top three, if not winning, to ensure that she earns her spot.
"I'm not interested in running the 100m or any individual race at the Olympics," she insisted. "I just want to be able to run the relays and just let these young ladies know that at the end of the day, if you intend to pursue an individual medal, the relay could also be a stepping stone to get there.
"So those who can do it individually, I'm happy for them. Keep it going. But for those who need the extra kick, they can still get it going in the relays. We are a nation known for the relays, the 4 x 100m and the 4 x 400m. So it was disappointing that we didn't have a team in Beijing. We need to change that next year in Rio and have a team there. So no more excuses. We just have to push forward."
And while her ultimate goal is to compete in her final Olympics, Ferguson-McKenzie said she is always looking at trying to get some Bahamians enrolled at UH on athletic scholarships.
"We're looking to rebuilding the women's programme at the University of Houston," she pointed out. "That's one of the reasons why I'm here. I want to let them know that as good as they are or think they are, without the grades, they are going nowhere. They are raising the bar in the United States because they are trying to keep the international athletes out.
"But it's a good thing for us because we now have to raise the bar  and ensure that we continue to get our athletes in. Whether they are from government schools or private schools, it can be done. If they think it can be done, then it will be done. But if they think it can't be done, then it won't be done. It's just going to take the whole community, parents, teachers and coaches to get it done."
Before leaving after her graduation at St Andrew's School, Ferguson-McKenzie had every intention of going to the University of Georgia to begin her trek to becoming a pediatrician. But after graduating, she has given up those intentions to remain in athletics.
"I think this is where the good Lord wants me to be," she said. "I love my job as a coach. It's amazing how certain situations happen and when you tell them you know what the answers are, some things I have done and my goal right now is to not make any mistakes that others have made and just work hard and aspire to be number one."
As for the politics going on in the BAAA with the election of officers to take place during the annual general meeting on November 28, Ferguson-McKenzie said she is just looking forward to casting her vote as the Athletes Representative.
"I just want us to get a president in who is willing to work," she quipped. "We have a generation of kids who right now is amazing. They are going to be even more amazing than the Golden Knights and the Golden Girls and so we need to focus on them and getting that ship out there instead of all the ruckus that has taken place in the past.
"So whoever gets in, I just want a president who will get the job done. There is a job that needs to be done. And that's what we need to do."
The elections are expected to come down to a battle between incumbent president Mike Sands and former executive Rosamaunde Carey for president. Both have presented their slate of officers in what is anticipated to be the biggest showdown in quite sometime.
In her role as the Athletes' Representative, Ferguson-McKenzie said she gets a chance to offer recommendations to the executives of the BAAA, but obviously they have not always been adhered to. Maybe it's because she has been doing it from overseas, but Ferguson-McKenzie said if there's someone who is willing to get the job done at home, she will be happy to pass the baton on.