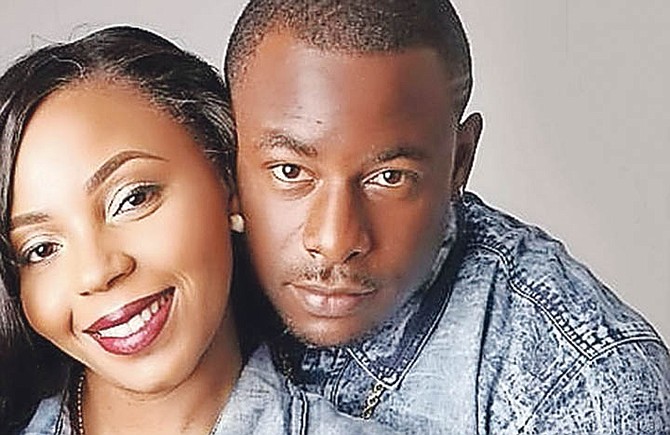 By RICARDO WELLS 
Tribune Staff Reporter
rwells@tribunemedia.net
AN engaged couple were murdered yesterday in an apparent ambush near the general entrance to the Sandilands Rehabilitation Centre in Fox Hill.
The incident, which shocked many who had gathered in the area, reportedly played out as the victims attempted to leave Sandilands following a therapy session.
The male victim was said to be undergoing physical-therapy treatment at the facility following a recent shooting.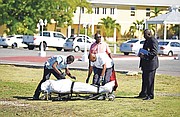 Responding officers found the man's body sprawled across a section of the lawn in the northwestern section of the property, and the body of his female companion in the driver's seat of the car they were driving. EMS pronounced both victims dead at the scene.
While police did not identify either of the victims, The Tribune can confirm that they were Neil Deveaux, 33, and his fiancée, Ashlee Hilton, 30.
They were parents to a three-year-old son. Hilton is a graduate of Queen's College. 
In an interview with reporters at the scene yesterday, Chief Superintendent Solomon Cash said police suspected the couple was targeted by persons in search of Deveaux.
CSP Cash confirmed Deveaux was known to police, referring to him as "one of our prolific offenders."
Expecting some form of retaliation, police said they would beef up the presence of officers in Fox Hill.
"We believe he came to do therapy, based on the information we are working with thus far," he said.
CSP Cash continued: "We are getting information that a black, SUV jeep may have been involved in this incident. We have been told that two men emerged from that SUV and they approached the white vehicle and they opened fire on that vehicle. Subsequent to that, the male victim ran from the vehicle and he was chased from these same assailants who opened fire on him, subsequently shooting him.
"We don't know the description of (the assailants') clothing at this time. We only know the description of the vehicle we suspect these two persons came from."
He also said police were uncertain how many times Deveaux was shot.
"We know that it was a handgun that was used, based on the firearm evidence found on the scene," CSP Cash added.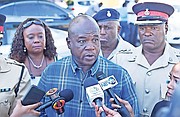 Responding to further questions from reporters, CSP Cash revealed that the male victim was gang affiliated and that his death could have been an extension of his involvement in some other activity.
"We suspect, based on the profile of the victim, that it could be some form of retaliation against the male victim," CSP Cash said.
Family members of the male victim, who were at the scene, confirmed that he was "troubled."
His father, George Deveaux, said he spoke with his son just hours before his death, but had no idea that it would have been their last conversation.
"We talked about some things I had to finish, some things I had started yesterday."
Mr Deveaux said his son was incarcerated some 15 years ago, adding that his son's time behind bars left quite an impression on him.
"He was changed after that. He was young when he went in. He was different when he came out."
Moments later, Mr Deveaux could be heard saying: "That prison tough on these young boys. That is make them criminal. Like how a bakery is make bread…. Yea, that prison is make them."
In addition to Mr Deveaux, several other family members and friends of the victims showed up at the scene over the course of the two and a half hours that it took police to conduct their initial investigation.
Many of them who showed up appeared shocked in disbelief. A few had to be consoled by others.
CSP Cash said police would increase patrols in and around the Fox Hill community, where Neil Deveaux  reportedly lived.
"We suspect, based on the profile of the victim, that it could be some form of retaliation," CSP Cash said. "Based on what we are working with, is that the victim is connected to the Fox Hill area and we will be looking at that particular area; looking at the associates of the victim and also those persons who came to our attention who may be persons of interest for perpetrating this crime."
Following the incident, Sandilands Rehabilitation Centre suspended services for the remainder of the day.