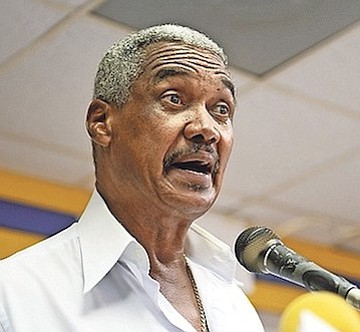 Leslie Miller
Stories this photo appears in:

FORMER Cabinet minister Leslie Miller says reignited discourse about The Bahamas possibly becoming a republic is "dead talk", adding that he doubts any significant change toward removing Queen Elizabeth II as head of state will happen during his lifetime.
Attorneys for an ex-Cabinet minister last night said they agreed to the overturning of a near-$10m damages award against the Government because both sides are now in settlement talks.

An ex-Cabinet minister's ambitions to re-open his family's business are likely to be blocked by the Supreme Court-appointed receivers for the Bank of The Bahamas' (BOB) bail-out vehicle.

A Supreme Court judge has reversed her initial draft verdict by ruling there was "no unlawful conspiracy to deliberately injure" an ex-Cabinet minister in the breaching of five multi-million lease deals.

An ex-Cabinet minister yesterday said it was "unbelievable" that gyms have been allowed to re-open while his family's business remains closed, adding: "We don't know how much longer we can survive."
BANK of The Bahamas will soon know the fate of its "two highest risk litigation matters" that both involve former Cabinet ministers, its chairman has revealed to shareholders.

An ex-Cabinet minister says his family's business "doesn't know where the next dollar is coming from" as losses hit $150,000 per month due to COVID-19's devastating impact on the entertainment sector.

The Supreme Court has blasted the Government and Bank of The Bahamas for "acting in bad faith" and working together against an ex-Cabinet minister in breaching five multi-million lease agreements.

A former Cabinet minister may seek more than $66m in damages after the Supreme Court found that the government's lease of his shopping plaza is "valid and binding", it was revealed yesterday.Damian Gomez QC confirmed to Tribune Business that Justice

A former Bahamas Electricity Corporation (BEC) chairman yesterday slammed plans for a mass disconnection of delinquent Family Island customers, and urged: "Have a heart".

DEPUTY Prime Minister and Minister of Finance Peter Turnquest said the government will only do what is in the best interest of Bahamians as it faces lawsuits over lease agreements that have allegedly been broken.His statement came after it was reveal

FORMER Water and Sewerage Chairman Leslie Miller defended Progressive Liberal Party Leader Philip "Brave" Davis yesterday insisting in many ways the former minister of works was "left out of the loop" regarding Nassau Island Development's receipt of a $9.6m contract with the WSC under the previous Christie administration.