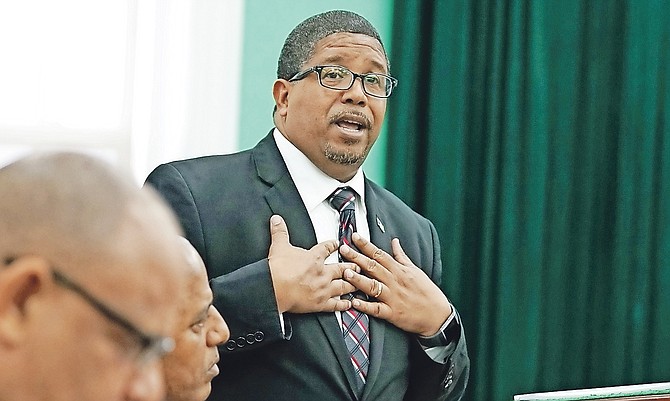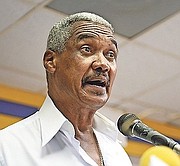 By RASHAD ROLLE
Tribune Staff Reporter
rrolle@tribunemedia.net
DEPUTY Prime Minister and Minister of Finance Peter Turnquest said the government will only do what is in the best interest of Bahamians as it faces lawsuits over lease agreements that have allegedly been broken.
His statement came after it was revealed that former Tall Pines MP Leslie Miller is suing the government after Bahamas Resolve appointed a receiver over his Summerwinds Investment Company Limited, Summerwinds Bowling and Entertainment Centre Limited and Mario's Bowling & Family Entertainment Palace Co Ltd while advertising the Summerwinds Complex for sale.
In documents filed with the Supreme Court, Mr Miller has claimed both BOB and the former Christie administration reneged on agreements to fund multi-million dollar renovations to his plaza so it could be rented to government ministries. These contractual breaches have caused him millions in rental income, he claims.
Mr Turnquest revealed that other lawsuits against the government also have been filed.
"Similar complaints were made with respect to leases and we are evaluating all those to determine what our options are and whether we are doing what's in the best interest of Bahamians," he said. "We will make a decision as to how to proceed."
In March, Mr Turnquest complained in the House of Assembly of encountering property leases that had "no exit clauses," even though "not a single government worker (had) ever set foot in the building". He said some matters would result in legal action as the government sought to escape commitments it did not need.
"Some of the agreements we have met in place, we are seemingly hand-cuffed even though we have no need of the service, so we have to figure out how to equitably exit these arrangements the former government put us in," he said.
As for Bahamas Resolve's attempt to sell Mr Miller's properties, James Smith, past chairman of the special purpose vehicle (SPV), said the Minnis administration has taken an aggressive approach in going after bad loans, one he does not endorse.
Bahamas Resolve is the SPV the Christie administration created in 2015 so it could remove some of BOB's toxic loans from its balance sheet, going after them through the SPV.
"(Mr Turnquest in opposition) said he would be more aggressive in going after bad loans," Mr Smith noted. "He might have given that point of view to the Resolve guys now."
When he was chairman, Bahamas Resolve had little success going after bad loans.
Explaining his approach then, he said: "The market then and still is very sluggish because of the overhang from the banking sector. You could see it in the pages of advertisements every now and again.
"The banks had huge non-performing loans so a lot of houses were repossessed and up for sale and that's what we were competing with. Even if we wanted to be really aggressive, chances are you wouldn't get much movement in the market which was sluggish and still is.
"That was a major consideration for us. Secondly, we thought about whether there was a chance a loan for a business would have a house used as collateral; we looked at it and said if you take the house from under the guy chances are you're not going to get back what you want but at least he still has his business, let's work with him and see if we could resuscitate that business. Thirdly, we had the question that was always lingering which is these people felt they had some dispute with the bank which we never knew the nature of."
Mr Smith never dealt with Mr Miller's matter. The Christie administration did not transfer toxic loans of politically exposed persons to the SPV.
His team's approach to Mr Miller's matter would have differed from that of the Minnis administration, he said.
"His business would be a going concern, business is open so there's a chance you may have gotten some cash out of that to pay down on the outstanding debt. You might stand a better chance of doing that than what you might realise through a sale. That's only guesswork on my part. Maybe there are some people out there that have that kind of money and think they could turn it around. That's a big gamble so you would have to cut the price very much in half, then you'd still go to court because the owners would say you fire sale my stuff. Personally, I would have wanted to avoid putting the government in conflict with its own people in a way because there is a lot of blame to spread around there. We know there were some stuff going on in the bank, we can't prove it, but because people were complaining, it wasn't going to be an easy sell. Then they tie you up in courts and even if you do win it's a pyrrhic victory."