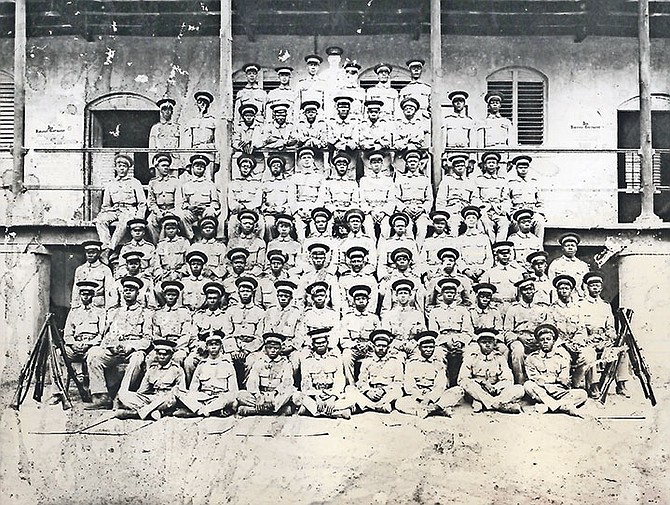 The Third draft of the Bahamas Unit.
Pictured from left, first row (sitting): Alfred Cargill, Jas GW Bullard, Saml O Ambrose, Israel Mccartney, Jas Lloyd, Donald Ingraham, Jas Davis, Gabriel Brown.
Second row: Jos Young, Jas Boyd, Wm W Thompson, Geo A Thompson, Dan Sweeting, Wm Evans, Asa Kemp, Alaric Saunders. Thos A Johnson, Benjamin Hamilton, Stephen H Saunders, Robt Taylor.
Third row: Wm RA Bethel, Sol S Roker, Albert Barry, Soloman Davis, Jas W Hall, John Whylly, Albert Bizzard, Jas A Young, David Rolle, Ernest R Gibson, Chas A Bethel, Vincent Carey.
Fourth row: Geo Fisher, John Turnquest, Sam Brown, Robt Green, Ed M Rolle, Jas Baptiste, Daniel Sweeting, Nathl Gordon, Horace Johnson, Howard Roberts, Wm A Thompson, Clarence Coakley, Gus Peterson.
Fifth row: Octavius Dean, Edward Smith, Leon Albury, Fred Kerr, Robert W Sawyer, Allan A Thompson, Thad Evans, Anderson Seymour, Malvin Ingraham, Lees Hall, Henry Brennan, Geo L Sweeting. 
Six row: L. Cpl Hilary Gibson, L. Cpl Wm. T. Culmer, Granville Johnson, Edwin Rolle, Jas. Rolle, Manasseh Rolle, Zac Fernander, John C. Leare, L. Cpl Wm. R.C.Mcphee, L. Cpl, Joseph Gordon.
Seventh row: E. Frank Hanna, Geo. L. Sands, Sgt Clarence L. Moss, Sgt Chas. S. Sparkman, Cpl Felix R. Turnquest, Cpl Wm. P.B. Cooper
Very back: R.H.C. Crawford , Commandant of Police.
Stories this photo appears in:

On November 11 this year, heads will bow around the globe to mark the centenary of the end of World War One.