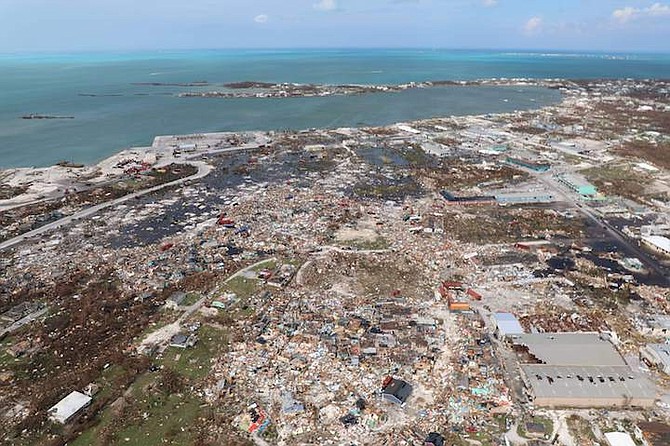 The destruction caused by Hurricane Dorian is seen from the air, in Marsh Harbour, Abaco in September, 2019.
(AP Photo/Gonzalo Gaudenzi)
Stories this photo appears in:

ABACO residents say they are not waiting for the government to issue evacuation plans for the 2020 hurricane season but are instead making their own plans if another storm were to hit the island.

WORKS Minister Desmond Bannister said it's "impossible" for electricity to be fully restored on Abaco before the start of the 2020 hurricane season, adding the level of destruction left by Hurricane Dorian has created several challenges for officials

Life is forced to go on for residents of Abaco, sturuggling in the wake of Dorian's devastation. But now a new cloud is appearing on their horizon - another hurricane season and no visible plan for their safety from a government some on the island feels has abandoned them.

ABACO residents, still grappling with life after Hurricane Dorian, feel the island is in no way ready for the start of hurricane season next month and fear the worst is to come.

THE Hurricane Dorian death toll has increased to 56 and Royal Bahamas Police Force officials have again urged people to report missing relatives to the Central Detective Unit.

The government must eliminate bureaucracy and "red tape" if its post-Dorian Economic Recovery Zones are to work, an Abaco-based poultry farmer warned yesterday."Economic concessions won't help if the amount of red tape we've been dealing with is stil

ABACO and East Grand Bahama have been declared special economic recovery zones, Prime Minister Dr Hubert Minnis announced yesterday, as he outlined several tax exemptions, waivers and concessions for residents seeking to rebuild life in the aftermath of deadly Hurricane Dorian.

WHILE 1.5 billion pounds of debris remains strewn across Marsh Harbour following deadly Hurricane Dorian, it is a harsh reminder that the country's building code needs revision to withstand monster storms.Housing and Environment Minister Romauld Ferr

MOST Bahamians would be priced out of the real estate market if the building code were changed so residential homes and businesses could withstand a Category Five hurricane, former Bahamas Contractor's Association President Leonard Sands said yesterd

REPRESENTATIVES of international organisations providing relief to the Bahamas after Hurricane Dorian said yesterday red tape has not hindered their efforts. During a press conference, leaders of the United States Agency for International Developmen

A Cabinet minister last night predicted it will cost "billions and billions" to rebuild Abaco and east Grand Bahama's infrastructure after the "awesome challenge" laid down by Hurricane Dorian.

At Thursday's press conference, NEMA said the number of missing people was now at 1,300.

ACROSS the country, many Bahamians are answering the call to provide aid to the thousands of individuals who were adversely impacted by Hurricane Dorian. One of them is Dr John Hull. Days after Hurricane Dorian ravaged Abaco and its surrounding cays

AS survivors of Hurricane Dorian face the challenge of rebuilding their shattered lives, there is also the constant fear that desperation and chaos will lead to violence.