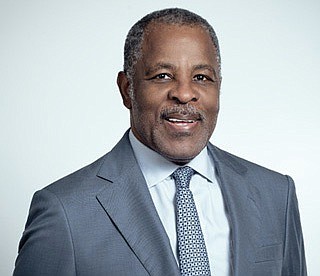 SIR FRANKLYN WILSON
Stories this photo appears in:

The Bahamas has no short-term solutions for combating soaring energy and gas prices, a major fuel supplier's chairman warned yesterday, adding that tax cuts were likely "off the table".

FOCOL Holdings temporarily increased its bank overdraft by 247 percent to finance "a game changer in our transformation" to beat reduced fossil fuels usage, its chairman has revealed.

FOCOL Holdings Limited has announced three top level promotions in its executive establishment.

FORMER Prime Minister Hubert Ingraham has taken exception to remarks made by a local philanthropist and businessman who said an investor was prevented from doing business in The Bahamas because of "terrible public policy" during Mr Ingraham's tenure.

The Bahamas Chamber of Commerce and Employers Confederation's (BCCEC) incumbent chairman has seen off an election challenge to retain her post for a second two-year term.

A senior Ministry of Finance official yesterday branded as "absolutely incorrect" assertions that the Government cut a secret austerity deal with its lenders in return for last year's $825m foreign currency bonds.

FOCOL Holdings will retain some of "the oversubscription" on its recent $10m preference share issue, its chairman telling this newspaper: "In our minds we will not go past $12m".

A prominent businessman is arguing that the present budget fails to properly detail the extent of the economic and fiscal crisis facing the Bahamian people following the COVID-19/Dorian debt blowout.
Sun Oil's chairman yesterday refused to be drawn on assertions by the deputy prime minister that it had supplied "contaminated fuel" to Bahamas Power & Light (BPL).

Super Value has warned its 1,000-strong workforce they "will face termination" if caught disobeying COVID-19 protocols, its principal warning yesterday: "We cannot go back into lockdown."
A Bahamian insurer yesterday said its latest agency acquisition target will give it "more and more control of our destiny" while achieving its desired "five basis point spread" investment return.

Reimposing COVID-19 restrictions to combat a "third wave" of infections was yesterday branded "a terrifying proposition" for Bahamian businesses already struggling with pandemic-inflicted devastation.

A prominent businessman is questioning whether the government and private sector are doing enough to protect Bahamians' personal financial data from employee theft in a growing digital economy.

The Government has paid "several million dollars" to a private developer to "bring order out of chaos" and secure the homes of several hundred families who were swindled in a massive land scam.

Sir Franklyn Wilson is defending as "very conservative" projections that the Jack's Bay project will hit up to $48.9m in annual real estate sales by 2023, adding: "We're not selling this like Fried Fish."