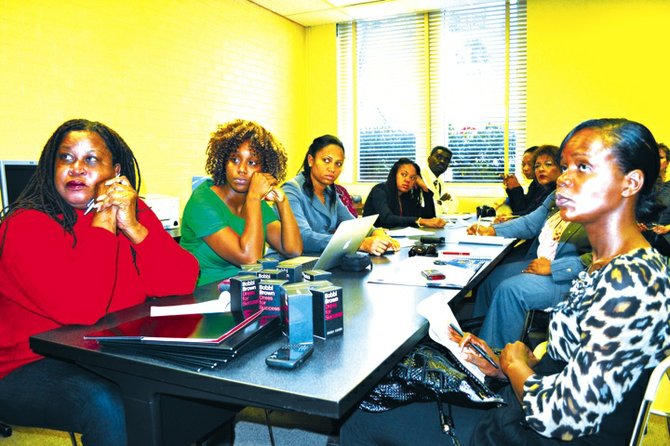 AFTER participating in the U.S. State Department's Women's Empowerment Reporting Tour, Bahamian journalists Noelle Nicolls, features editor at the Tribune and Inderia Saunders, contributing writer to the pan-Caribbean eWoman Magazine paid a courtesy call on US Chargé d'Affaires John Dinkelman at the US Embassy.
Ms Nicolls and Ms Saunders told Chargé Dinkelman one of the highlights of the trip took place in Washington DC during the 2nd Annual World Conference on Women's Shelters where former US President Bill Clinton was a surprise keynote speaker. The women also spoke highly of their visit to an Atlanta based women's shelter for survivors of domestic violence.
The reporting and leadership development opportunity focused on the empowerment of women and combating gender based violence. It included 11 female journalists in print, radio, online and broadcast news, from across the Caribbean. They travelled to Washington, DC and Atlanta, Georgia from February 27 to March 2, 2012
"The experience reminded me of how important it is as journalists and women's writers to be informed about what is happening locally and globally in the women's movement. We mediate the conversation between advocates and organisations and our readers, and in doing so we must be informed. The experience helped me to see my role more clearly as a journalist in the wider movement for gender equality and human advancement," said Ms Nicolls.
As a publisher of a Caribbean magazine, Ms Saunders said it was valuable to connect with the regional women and to hear first hand stories of common experience and concerns.
In Washington, DC the journalists met with and interviewed federal agencies and multilateral organistions to address how policy is shaped at the federal and multinational level. The group met with Anita Botti, Chief of Staff for the State Department's Office of Global Women's Issues, and Lynn Rosenthal, White House Advisor on Violence Against Women. Appointments also included the Inter-American Development Bank, and the Organisation of American States' Commission on Women.

In Atlanta, the journalists met with state, city and grassroots organisations that showcased innovative approaches to empowering women at home and in the workplace. Their Atlanta appointments included a women's shelter operated by Partnership Against Domestic Violence, the Women Build programme of Habitat for Humanity, Dress for Success, the Georgia Commission on Women, and Spelman College's Women Research and Resource Center.
The tour was funded by the Foreign Press Center in collaboration with the Western Hemisphere Affairs office and the office of Public Diplomacy and Public Affairs. Their year long Women's Leadership Development Series uses public diplomacy programs to advance the US State Department's goals of promoting social inclusion and empowering women.

The series aims to sustain a stimulating dialogue, networking within countries and across the Caribbean, and foster potential public-private partnerships to continue the dialogue into the future.