By DANA SMITH
dsmith@tribunemedia.net
FOLLOWING the National Security Minister's acknowledgment that the country's high murder rate stems primarily from drugs, New Covenant Baptist Church pastors are appealing to dealers to stop their "ongoing war" against society.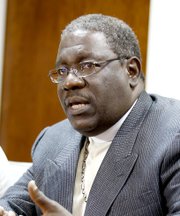 In a statement, released by Bishop Simeon Hall, the pastors also asked Haitian nationals involved in the drug trade to realise how it "fuels the animosity and suspicion many Bahamians already have against them".
"The Passion and Resurrection of Christ, which most Bahamians celebrate at this season, continues to be marred by the spirit of murder and a good number of these murders are being fueled by the drug culture which has haunted our land for the last four decades," the statement said.
The record is "blatantly clear" that most dealers die young or go to prison for lengthy periods, it said.
"The monetary gains which drug dealers enjoy is tainted with the blood of those who become victims in the demonic prison of drug addiction. Nearly half of all murders in our country in the last two years were drug related."
The pastors asked dealers to think about their families, especially innocent children that could be left behind in instances of incarceration or death.
"We also note the involvement of some Haitian nationals in the drug trade and appeal to them to recognise how this fuels the animosity and suspicion many Bahamians already have against him," the statement continued.
"Some dealers 'sell their souls' the same way they sell drugs, thus the need for spiritual intervention. Additionally, some persons in our society deify drug dealers, especially when they benefit monetarily from them."
The pastors added that they commend National Security Minister Tommy Turnquest for his National Anti-Drug Strategy 2012-2016, which bears the slogan, "Drugs and Crime Is A Waste Of Time - I Too Good For That."
They believe "all well-thinking Bahamians" will embrace the programme and they encourage all involved to ensure it helps drug addicts and dealers quit their "demonic destructive lifestyle."