By JEFFARAH GIBSON
Tribune Features Writer
FOR six years Bahamian artist Je'Rome Miller has donated proceeds from his annual exhibit to the Winston V Saunders Memorial Scholarship Fund at the College of the Bahamas.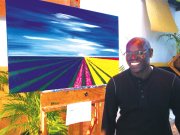 This year was no different, as the artist donated part proceeds from his recent display "Pieces of Eight" at the Christ Church Cathedral.
Before his death Winston Saunders was a mentor of Mr Miller, making sure that he worked to become better at his craft.
"He made sure every night I was practicing and doing the things that would make me a better artist. For that I appreciate him and will always host a show in his honor," he told Tribune Arts.
In Pieces of Eight, he explores the themes of color and beauty, departing from the approach in the last show "Exuberance III Sticks and Stones", which centered on the environment and nature.
"This is something I do every year. All of the funds from one piece goes towards the fund. Part of the proceed from other paintings are also donated. This is ongoing so anyone who wishes to donate can," the artist told Tribune Arts.
"Pieces of Eight" featured colourful paintings, brought to life by geometric shapes and lines.
"Show Me The Lights" is an example of this, featuring layers of paint, colours and combinations.
"In its very simplicity a theme of beauty, peace and sophistication springs from the canvas."
The artist also employs dimensional rings to accent the painting.
In Halleujah, Miller communicates peace and pleasure.
"There are a variety of messages in this piece which go from the pleasure of Junkanoo to the majesty of a crowning. The colors bring you a taste of summer citrus, and melons," he said.
In Horizon, Mr Miller said he also uses an array of color to speak about hope and goodwill.
All of the pieces displayed in theexhibit were created over a twelve month period.