By AVA TURNQUEST
Tribune Staff Reporter
aturnquest@tribunemedia.net
THOSE involved in politics should remember it is they who are indebted to the people - not the other way around - Prime Minister Hubert Ingraham reminded Dame Marguerite Pindling over the weekend.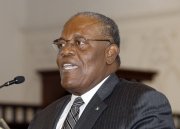 On Friday, the wife of the late Sir Lynden Pindling accused Mr Ingraham of being "mean" to the former Prime Minister and leaving him with nothing after the PLP's 1992 election loss.
Mr Ingraham hit back at this accusation at a mass rally in Abaco on Saturday night, criticising Dame Marguerite as fond of the good life, and claiming neither he nor PLP leader Perry Christie were ever friends with her.
"I understand the good lady's hurt at losing the life of privilege she believed she is entitled to live at the expense of the Bahamian people forever and ever," he said.
"Well, power in this country belongs to the people and those of us who are fortunate enough to get elected should never forget that.
"They cause me to remember the saying: when you are rich, do not squander; when you are poor, do not cry. Many in the elite and leadership of that other party would do well to learn and remember that."
According to Mr Ingraham, a lack of regard for the voters themselves is a recurring theme with the PLP.
He said opposition members obsess about him at their rallies, but they never focus on the people who elected him to office.
The Prime Minister said he sees himself as a "gatekeeper" blocking the Progressive Liberal Party from returning to government.
Addressing his constituents in North Abaco, Mr Ingraham said he would welcome a visit from Perry Christie to his home town, so the PLP leader can compare the improvements there to the state of his own Centreville constituency.
"We'd like him to come to this town of Cooper's Town, where when I was a boy, we didn't have an outside toilet - I used to go in the bush. Most homes had a well to get water from. We fortunately had a pump, but most homes had a well. I'd like him to come here, walk through Cooper's Town and find me an outside toilet! I'd like him to walk, and find a house that doesn't have running water in Cooper's Town. Then I'd like him to go to Farm Road where he represented, and tell me what he finds there."
He added: "That's what leadership does and that's what good representation does."