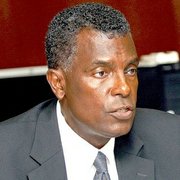 Foreign minister Fred Mitchell has urged the BDO accounting firm's Western Hemisphere members to help "make the case" that international financial centres such as the Bahamas benefit, and not harm, major developed countries.
Addressing BDO's North American Caribbean Regional Meeting at Atlantis, Mr Mitchell said: "We continue to be concerned about the sounds of hostility from many developed countries regarding the wealth accumulation managed in financial service sectors like the Bahamas.
"The arguments are impatient of debate that these wealth accumulation centres in the Bahamas, and the centres in this region, help to mobilise capital which eventually ends up in the economies of developed countries.
"These centres are not harmful to developed countries and their leaders should not say so. You can help us make the case to defend these financial centres from your vantage point and profession."
Describing BDO International as the world's fifth largest accounting network, offering audit, tax and advisory services to clients in 137 countries, Mr Mitchell said it employs 49,000 people.
Calling on its members for wealth creation ideas, Mr Mitchell said the 7,000 direct jobs to be created when Baha Mar opens in December 2014 was a sign of positive economic growth.