By SANCHESKA BROWN
Tribune Staff Reporter
sbrown@tribunemedia.net
ROBERT "Sandy" Sands, Senior Vice President of External and Governmental Affairs at Baha Mar, denied yesterday that the resort was "terminating" employees from Wyndham Nassau Resort and Crystal Palace Casino.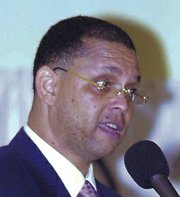 Mr Sands was responding to reports that workers were being fired and not given adequate severance packages.
Last month, Baha Mar executives announced the Wyndham Nassau Resort and Cable Beach Casino will close temporarily in September as Baha Mar accelerates the construction phase of its project.
The resort also simultaneously offered Early Retirement and Voluntary Separation Packages to its more than 1,000 employees who will be out of work from September 4 to October 17, 2012.
The workers were given four weeks to decide whether or not they will accept the packages.
On "Darold Miller Live," yesterday morning, several callers claiming to be employees of Crystal Palace Casino phoned the talk show to complain that they were terminated from their jobs and told they could not re-apply when the hotel re-opens.
The employees also claimed that they were not getting proper compensation packages which allegedly range between $5,000 to $8,000. It was also claimed that employees 55 years and older and those with chronic conditions were being forced to take the packages.
Mr Sands said no one has been fired and the facts on the voluntary separation packages remain the same.
"None of that is true," he said. "We have sent out all the details. This is a difficult business environment and we have empathy because of that perspective. No one is being forced out. This is a voluntary arrangement. The facts are out there and I think it is fair to say that there are some people who are going through difficult times right now and emotions are running high. In reality the hotel and the casino are going through a major transition period. We are doing our best to accommodate everyone. The key to all of it is voluntary."
Mr Sands said those who choose to end their employment with Cable Beach Resorts/Crystal Palace Casino will receive an attractive compensation package based on their position and length of employment.
"It will be a case by case thing. Basically once the individual applies we will take it under consideration and their package will depend on their age and how long they were working at the resort. There are some people in the 63, 64 and 65 age group that will get the package plus a pension incentive payment and still qualify for a full pension," he said.
"According to the Plan, Cable Beach Resorts employees working at the Wyndham Nassau Resort and Crystal Palace Casino have been given a four-week window during which to consider plan participation. Actual early retirement and separation dates will vary based on the employee and his or her role and function. The Plan is non-discriminatory as to age, gender, position and length of employment and Cable Beach Resorts maintains the right to accept or reject any individual application to participate."
Mr Sands said the Early Retirement and Voluntary Separation Plan offers an attractive incentive to pursue other plans.
He said management is encouraging staff to continue their education and training and re-apply for employment when opportunities open up in the future.