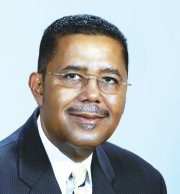 By NATARIO McKENZIE
Tribune Business Reporter
nmckenzie@tribunemedia.net
HEALTH Minister Dr Perry Gomez said yesterday that a report on stem cell research should be before Cabinet early in the New Year, as one leading Bahamian physician yesterday called for "robust" legislation to protect the country's reputation and promote good science.
Dr Duane Sands, a member of the task force appointed to review the controversial treatment and offer recommendations on its use in the Bahamas, said yesterday: "We understand that this is a rapidly evolving field, and there are many countries that have embraced medical tourism and tried to ensure that the process of approval and ratification, or consideration, of new projects is done in a timely fashion.
"Similarly, efforts have even been made to ensure that phenomenal scrutiny of the proposed projects, the participants etc, is carefully done. We need to ensure that the legislation in the Bahamas is robust enough to protect the integrity and reputation of this country, while at the same time promoting good science. This is an ongoing process. We need to make sure that the laws are constantly keeping up with what is happening on the ground."
The task force presented its report and recommendations to Dr Gomez yesterday.
"We anticipate there will be a lot of interest in people coming here to practice in this area, and so we will need to have an active ethics committee which will give approval to, and monitor what is going on, in our country so that people are doing what they have been approved to do and nothing else," said Dr Gomez.
Dr Arthur Porter, chairman of the task force, told Tribune Business that stem cell research could be a key thrust for a medical tourism sector in the Bahamas, which he said could generate more than $100 million annually.
"We believe that over the next 10 years we are going to see a renaissance in this therapy," Dr Porter said. He added, though, that the proper regulations and ethics controls need to be in place.
"What we don't want to do is make it an open season for anybody who wants to do anything. We want to have reputable, high class science and therapy down here under the right sort of regulations and ethics controls. Not only are you controlling it for the jurisdiction and the reputation of the jurisdiction but, frankly, the sophisticated patient won't go to a place that's uncertain. So it's much better that we start off right the first time," said Dr Porter.