By LAMECH JOHNSON
Tribune Staff Reporter
ljohnson@tribunemedia.net
A BAHAMIAN-Amercian man, six Bolivians, a Brazilian and two Turkish men were arraigned in Magistrate's Court in connection with a drug seizure in Freeport, Grand Bahama.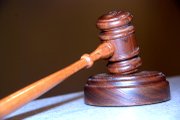 In yesterday's hearing before Deputy Chief Magistrate Carolita Bethell, the prosecution informed defence attorneys that even if one of the accused pleaded guilty, the charges against the other nine would not have been dropped.
Shawn Saunders, 42, of Sea Breeze Lane, was charged with one count of conspiracy to possess marijuana with intent to supply and one count of possession of the drug with intent to supply.
Saunders, also known as Shawn Bruey, was charged with Bolivians Mauricio Camacho, 33; Luis Ledezma, 21; Patty Cruz, 29; Luciano Guzman, 38; Omar Garcia, 32; and Oscar Gonza, 21.
Brazilian Guilherme Perazzini, 29, and Turkish pair Muammer Durmus and Mehmetsalih Alcagunduz also faced the same charges.
It is alleged that on Monday, January 30, the nine men and one woman were in possession of 10 pounds of Indian Hemp.
After the charges were read with the assistance of Spanish, Portuguese and Turkish interpreters, the accused all denied the allegations and pleaded not guilty.
The Deputy Chief Magistrate informed the accused they were denied bail and would be remanded to Her Majesty's Prison, as the court did not have discretion to grant bail due to the nature of the charges.
She told them the earliest trial date should have been in October, but that she would make an exception and hear the matter for an entire day on July 18.
When the interpreters conveyed this information to the accused, Patty Cruz broke down in tears and the magistrate eventually had to ask officers to escort her from the court.
Defence attorneys Michael Kemp and Devard Francis asked the prosecution if they were willing to drop the charges against nine defendants if one was willing to plead guilty, but the response was that all the charges would be pursued regardless.
The accused were remanded to prison and will return to Court 8, Nassau Street on July 18 for trial.
Six witnesses are expected to give evidence in this matter.