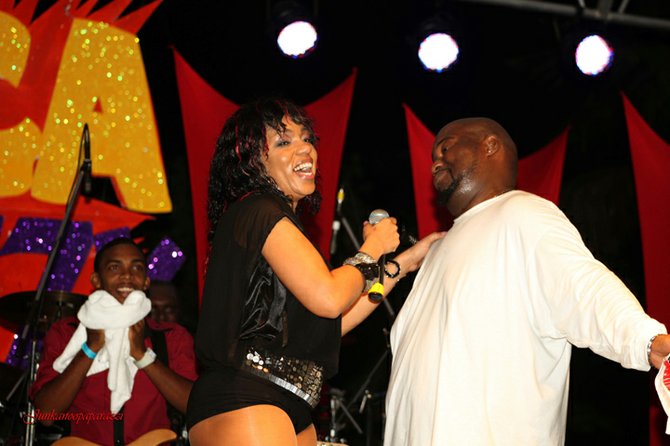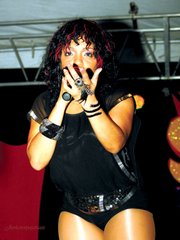 By ALESHA CADET
Tribune Features Reporter
COLD weather prevented some Soca lovers from wearing the customary sexy shorts and revealing tanks, but it did not prevent them from whipping up a party atmosphere at the Soca Frenzy concert last Friday.
As expected, the Soca queen Destra Garcia had the entire crowd whining on beat. During the pre New Year's party on the grounds of Butler and Sands some patrons danced as though transported to Destra's home turf, Trinidad and Tobago, at Carnival time.
Hosted by the brand new promotion company on the party scene, Lucky 7 Promotions, the concert had fans waving a multitude of white towels, and anything else within arms reach, during each performance. The lead performance had the crowd running from side to side with Destra's dancing instructions.
Sharing the stage with Destra was Patch, the man behind the famous "Pipe" song; JW and Blaze, the duo responsible for the popular "Palance" song and the well-known, high-energy Bahamian group Visage.
Destra's performance was "high-powered and very energetic", according to Bahamian Soca fan Melanie Ferguson, who thought Destra was "the best at the show".
"I also really enjoyed Visage's performance. It was Mega hype. As for the rest of the acts, it didn't help that they only had like one or two well known songs. Usually at a concert, people enjoy performances more when there are songs they are familiar with. People like JW, they tried to introduce new songs, when people expected to have fun to songs that they generally know. Overall it was a good night," said Ms Ferguson.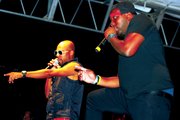 Another patron of the event, Sabrina King* added: "It was not as packed as stuff usually is on those grounds, but it was a good concert nonetheless. It was good because it was very high energy. The people responded well to the music and performances."
Just hours before the big showdown, Tribune Entertainment sat down with the Soca queen. It was about three years ago when Destra gave the Bahamas its first taste of Soca music, Destra style. Rating the Bahamian fan base amongst her top five, the entertainer said she also rates Jamaica, Europe, Trinidad and St Lucia.
"Definitely in the Bahamas I get a lot of love. We all know this is a family time and I am here so that just goes to show my love for this place."
The Trinidad native told Tribune Entertainment, "I just want to make everybody remember why they love Soca so much and why they love Destra so much."
Winning over her fans with hits like, "I Dare You", " It's Carnival" and "Max It Up," she made it her duty to give the people what they have been missing for years now. Destra also performed her new single entitled "Baddest."
While it may be called "Baddest," she said it has good intentions behind it. "I should've actually called the song goodest. It is a double meaning kind of song."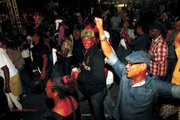 "What we wanted to do was change that negative meaning of the term Baddest into some positive. Like Michael Jackson said, he's bad, but he actually meant he's that good. And we are saying you are a Baddest because you are good at whatever you do," said the Soca Queen.
Explaining the song in depth, she said: "I never meet no one who can wave a flag like me or get on bad like me. [With those lyrics] I am talking about my genre of work which is Soca. In mashing up the stage, there is nobody badder than me, I am the Baddest. That is what it means," she said.
Pleased with the overall turnout of the event, Lucky 7 Managing Director, Allison Middleton said patrons can keep an eye out for more entertainment on the way from the new promotion company.
"I think the concert went very well, especially for our first promotion concert in the Bahamas. We stuck to our vision that we had for the event. More than anything, we were most happy with how much fun the crowd was having. We hope to do this annually and we are already planning smaller event to build our frenzy. As long as the people will have us, Lucky 7 will be here," said Ms Middleton.
(*Names have been changed).