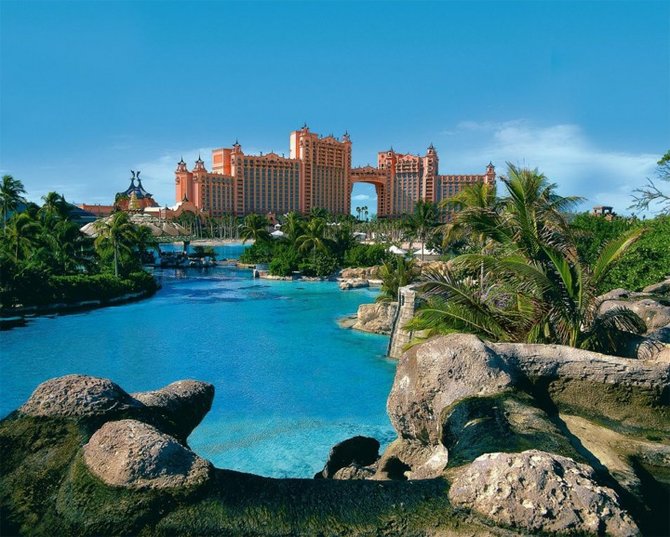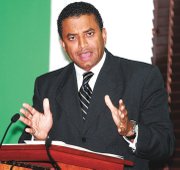 By NATARIO MCKENZIE
Tribune Business Reporter
nmckenzie@tribunemedia.net
THE management agreement between Kerzner International and Atlantis' new owners requires the Paradise Island resort to increase profits by up to 20 per cent each year, Democratic National Alliance (DNA) leader Branville McCartney claimed yesterday, implying that lay-offs to the 7,500-strong workforce were inevitable post-election.
Following the $175 million debt-for-equity swap, whcih saw Brookfield Asset Management assume ownership of Atlantis and the One & Only Ocean Club in late November, with Kerzner International retaining management control, Mr McCartney dismissed assertions that there will be no lay-offs at the Paradise Island resorts.
Brookfield previously told Tribune Business it stands behind Sir Sol Kerzner's statement that the ownership change will not impact Kerzner International's 7,200-7,500 strong Paradise Island staffing levels, with capital investment, marketing and maintenance budgets set to be unchanged,
Mr McCartney, though, said: "The Prime Minister's assertion that this transaction will not jeopardise Bahamian jobs is simply not true.
"While we believe that Atlantis will not lay-off people until after the political season, we will not allow Mr Ingraham and Mr Christie to hide behind false assertions. We do not believe in playing politics with people's lives, and we will not tolerate this misleading behaviour from the Prime Minister and the leader of the opposition."
Mr McCartney then claimed that opposition leader, Perry Christie, joined a Cabinet meeting regarding the Kerzner/Brookfield transaction on November 28. Mr Christie could not be reached for comment up to press time.
Mr McCartney alleged that Kerzner International's Atlantis management contract could be terminated at any time by Brookfield, saying: "In actuality, the management agreement between Kerzner and the owner can be terminated at any time with penalty, and even require Atlantis to increase profits by 20 per cent each year in an economy described by the Prime Minister as 'a time of global economic and financial uncertainty'."
Mr McCartney questioned how Kerzner could achieve a 20 per cent profit increase without reducing staff and maintenance costs. Such profit increase targets are not unheard of in the private equity/hedge fund world that Brookfield comes from, meaning Mr McCartney's allegations cannot necessarily be dismissed out of hand.
They could not be confirmed, though. George Markantonis, Kerzner International (Bahamas) managing director and president, was said to be out of the Bahamas and unavailable for comment when Tribune Business called. Ed Fields, Kerzner International (Bahamas) spokesman, did not respond to Tribune Business inquiries before press time.
Mr McCartney, meanwhile, also questioned whether the Government would approve Brookfield's alleged request for a reduction or waiver of Stamp Duty payable on the ownership transfer.
Tribune Business had previously posed the same question to Zhirvargo Laing, minister of state for finance, who at the time declined to comment. Several realtors had queried to this newspaper whether Stamp Duty would be paid, and if so, how much. It would be a timely one-off boost for the Treasury, and would likely exceed the $64 million and $79 million paid on the sales of South Riding Point and BORCO, respectively.
Mr McCartney also questioned why it had not been disclosed that management staff at Atlantis were at risk of a reduction in the value of the 11 million shares they hold in Kerzner International.
According to the DNA leader, the Prime Minister has documentation that implies the reason international lenders would not guarantee funding to Kerzner International is because they believed that Baha Mar and Atlantis could not co-exist.
Andrew Willis, Brookfield's spokesman, offered no comment on Mr McCartney's claims on the alleged 20 per cent profit increase target or the Stamp Duty issue when contacted yesterday.
Attempts to reach, Jennifer Ferguson, vice-president of global communications at Kerzner International, proved unsuccessful yesterday, as she was said to be out of office.
Taking the opportunity to hit at both the FNM and PLP, and thus score political points prior to the election, Mr McCartney said Kerzner's debt predicament came as a direct result of former Prime Minister, Mr Christie's, decision to allow the company to "leverage the Atlantis property in order to secure loans to build in other countries".
During his announcement on the Brookfield deal in Parliament back in November, Mr Ingraham said it was "regrettable" that the Christie administration had allowed Kerzner International's Paradise Island properties to be mortgaged to the extent of $2.3 billion - sums held by external creditors.
In response, Mr Christie told Tribune Business that at the time - in 2006-2007 - he made the decision he thought best, and blamed Kerzner International's debt woes on the "extraordinary" impact of the recession.