By LAMECH JOHNSON
ljohnson@tribunemedia.net
AFTER pleading guilty to firearm and ammunition possession, a Farm Road man begged the Magistrate's Court for leniency, saying he did not intend to cause harm with the weapon.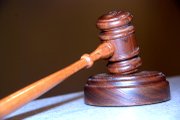 Before his sentencing yesterday morning in Court One, now located at the new Nassau Street Court Complex, 24-year-old Keno Williams was given an opportunity by Chief Magistrate Roger Gomez to explain his actions.
Speaking of the .9mm Beretta pistol and three bullets, the Anderson Street resident said: "I een had that on me to harm no one."
He did not say why he had the gun, instead asking, "Could you please be lenient on me?
The chief magistrate replied: "Unfortunately for you, the law has changed. There's a mandatory four-year sentence for possession of a firearm, and that is the minimum I'm allowed to give. I could give more."
He then sentenced Williams to serve four years at Her Majesty's Prison for each possession offence.
"Both are to run concurrently, so that's four years," he explained.
Williams responded, "Four years sir?"
Chief Magistrate Gomez nodded and said, "That's the minimum. Your sentence is effective from the 5th of January."
Williams was escorted from the courtroom in handcuffs and placed in a holding cell at the new complex before being transported to HM Prison.