By CELESTE NIXON
Tribune Staff Reporter
cnixon@tribunemedia.net
IN the name of progress and "renewal", Prime Minister Hubert Ingraham last night announced the FNM's full slate of candidates which includes a number of new faces.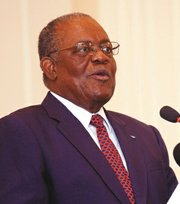 Following the ratification of the report from the FNM constituency committee at the party's headquarters, Prime Minister Ingraham presented the 38 candidates who will take the FNM into the election.
"We in the party executive," he said, "believe that we have chosen the best slate of candidates to contest the 2012 general elections, to win re-election to office and to equip us to continue to provide honest accountable and transparent government for the Bahamian people.
"The FNM is going through a period of renewal and change, something that is essential for all organisations," Mr Ingraham said, "and institutions if they are to remain relevant and to best serve their higher purposes."
Along with the 17 new faces introduced to the political scene, Mr Ingraham announced that 25 per cent of sitting FNM members of parliament will not seek re-election.
Current MPs who will not contest their seats include: Brent Symonette, MP for St Anne's (cabinet minister); Earl Deveaux, MP for Marathon (cabinet minister); Larry Cartwright, MP for Long Island (cabinet minister); Ken Russell, MP for High Rock; Verna Grant, MP for Eight Mile Rock, and Kendal Wright, MP Clifton.
Recognising the MPs for their service, Mr Ingraham expressed his gratitude and appreciation for their contribution.
"Each has given generously in the service of our party and nation," said Mr Ingraham, "each has demonstrated excellent character and is leaving front-line politics with reputation intact as honest, dependable and committed servants of the people."
Mr Ingraham noted that there are six sitting members of parliament who will be seeking election in new constituencies.
They include: Current Carmichael MP Desmond Bannister, who will be running in North Andros; current MP for South Beach Phenton Neymour, who will be running in Exuma and Ragged Island; current MP for Montagu Loretta Butler Turner, who will be running in Long Island; current Blue Hills MP Sidney Collie, who will be running in MICAL, and current Kennedy MP Kenyatta Gibson, who will be running in Southern Shores.
The Prime Minister predicted that all of these candidates would win their new seats.
He said: "Everyone who moved from one constituency to another will pick up a seat that was held by the PLP."
Mr Ingraham said that the wealth of talent available to the FNM made the selection process "very difficult."
"It is important," he said, "that those who were not successful in their bid to contest this year's elections on the FNM ticket know that their non-selection says nothing about their fitness to serve, their qualification or ability to represent our party on the national level. In the end, choices had to be made."
In making those choices, the Prime Minister said, the party held "extensive consultation", particularly with constituency association executives.
"We gave great weight to the preferred candidate of the associations, and very markedly of the executives of constituency associations."
Encouraging FNM's to bring out their red, Mr Ingraham said: "I say to all FNMs and supporters: The colour red is coming."