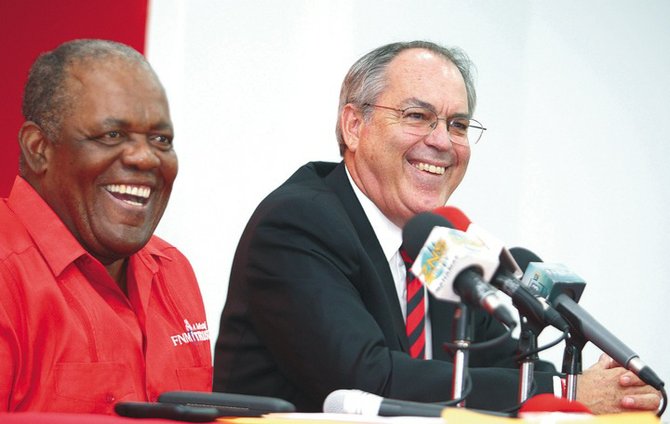 By CELESTE NIXON
Tribune Staff Reporter
cnixon@tribunemedia.net
DEPUTY Prime Minister Brent Symonette, scion of one of the country's most prestigious political families and a pillar of the FNM for more than 20 years, has announced the end of his career in frontline politics.
At a press conference at FNM Headquarters yesterday, Mr Symonette and Prime Minister Hubert Ingraham told reporters that Mr Symonette would not be seeking re-election in his current St Anne's constituency or any other at the next election.
Mr Symonette said it is time for him to step aside and make way for a new generation of FNMs.
He said: "It is with a spirit of gratitude and great satisfaction that I announce today that the time has come for me to leave the frontlines of politics. I shall not be offering for re-election in St Anne's in the general election this year.
"The FNM is committed to introducing a new brand, a new group of candidates," he said. "I feel it is time, the Prime Minister and I have discussed it, for me to make way for other persons to come forward and contribute to the party in whichever way they can."
Paying tribute to Mr Symonette, Prime Minister Ingraham said in the many different capacities he has served, as minister of tourism, attorney general, minister of foreign affairs and immigration and deputy prime minister, Mr Symonette has made a significant contribution to the country.
He said "Brent has been a valued, competent and effective minister of government" and has given a "long distinguished service to his country in the political arena as well as in other areas of our national life."
While Mr Ingraham admitted he thought he would be the first to leave the political frontline, he said Mr Symonette's decision was not sudden, rather he informed Mr Ingraham some two years ago that he did not intend to seek re-election.
Mr Symonette will stay on as deputy prime minister and minister of foreign affairs until the election, and also as deputy leader of the FNM until the next convention, which will be held in the first six months of this year, Mr Ingraham said.
He will also be one of a team of co-ordinators who will manage the FNM election campaign, he added.
Mr Symonette thanked the Bahamian people, specifically the constituents of Montagu and St Anne's who elected him to Parliament. He went on to thank the Prime Minister for appointing him to the "notable Cabinet position of deputy prime minister" and his colleagues in the House of Assembly and the government.
"It has been a wonderful time during which we, together, have accomplished much for our country. We have delivered accountable government to the Bahamian people and restored the good name of the Bahamas in the world," said Mr Symonette.
The opposition PLP has labelled the governing party's changes to its election slate a case of rearranging "deck chairs on the Titanic" and said Deputy Prime Minister Brent Symonette is the latest to jump from a sinking ship.
In a statement issued last night, the PLP claimed Mr Symonette announced he is leaving frontline politics in an effort to avoid allegations of conflicts of interest and questions about his role in millions of dollars in cost overruns related to government road works.
The party said that, as minister with responsibility for immigration, Mr Symonette allowed too many work permits to be issued and allowed the impression to develop that citizenship applications were being fast-tracked for political reasons.
"The record reflects that neither the Prime Minister nor Deputy Prime Minister feel compelled to answer repeated calls from the public for transparency on this and other matters," the statement said.