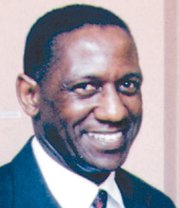 By NEIL HARTNELL
Tribune Business Editor
THE sums owed to Owen Bethel's insolvent Montaque Capital Partners by affiliated companies "could differ significantly" from the initial $2.76 million estimate, liquidators for the Bahamian broker/dealer have warned, as they continue to also probe deals linked to Mr Bethel's family.
Ed Rahming and Kenneth Krys, of the KRyS Global accounting firm, in their second report to the Bahamian Supreme Court on Montaque Capital Partners' winding-up, said they were also investigating business dealings connected to an entity called ELS Investments, plus statements prepared in the names of Mr Bethel, his family and companies affiliated with them.
Tribune Business revealed last week how significant debts were owed to Montaque Capital Partners, the broker/dealer arm of Mr Bethel's Nassau-based Montaque Group, by various companies involved in his non-financial services ventures.
These included Internet Protocol (IP) Solutions International, the company seeking to establish a 'triple play' communications infrastructure and operation throughout the Bahamas, which is alleged to owe Montaque Capital Partners $177,412.
IP Solutions International, or IPSI, is being run by Edison Sumner, a director and 5 per cent shareholder in Montaque Capital Partners and, according to Utilities Regulation & Competition Authority (URCA) documents, has hired former Bahamas Telecommunications Company (BTC) chief executive, Leon Williams, in an executive capacity. There is nothing to suggest
Larger sums were allegedly owed by Modes Iles, the company that organises Mr Bethel's Islands of the World Fashion Week, and Montaque Corporate Partners, the Montaque Group's financial and corporate services provider arm of the Montaque Group. They were said to owe $1.28 million and $1.231 million, respectively.
And Bahamas FilmInvest International, an entity once used by Mr Bethel to spearhead an ultimately unsuccessful deal to acquire the former Bahamas Film Studios project in Grand Bahama, was also said to owe $71,705.
Messrs Rahming and Krys said they had yet to conduct a forensic investigation into all the related party accounts, but alleged: "The liquidators located the customer account statements indicating amounts were due from Montaque Corporate Partners, Mode Iles Ltd, Bahamas FilmInvest International, and IP Solutions International.
"Based on discussions with management, the balances owing from these companies could significantly differ from the amounts reported on the account statements."
The liquidators' report alleged that a total of $4.97 million was owed to Montaque Capital Partners by related parties, the balance made up of $2.2 million in debts held by three unnamed customers, referred to as Customers A, B and C. Messrs Rahming and Krys alleged that all these debts were "subject to adjustment".
"The liquidators are aware of a company called ELS Investments, for which no customer account instructions were located," the report to the Supreme Court alleged.
"However, there were instructions on behalf of ELS Investments written on the company's letterhead and referenced to account numbers belonging to the company. The extent of the business relationship and transactions between ELS Investments and the company is still under investigation."
Messrs Rahming and Krys further alleged that they had to determine to which Montaque entity Mr Bethel, his family and entities they controlled owed certain debts. Mr Bethel, they added, had informed them the monies were owed to Montaque Securities International (MSI), a Montaque Capital Partners affiliate.
"The liquidators also located statements prepared by [Montaque Capital Partners] in the names of Bethel, Bethel's family members and affiliated companies of Bethel and family members," the liquidators confirmed.
And they also alleged they had found Montaque Capital Partners' credit card facility with Royal Bank of Canada showed "a number of personal charges made by Bethel for which the company was not reimbursed", based on a review of statements for the period May 2009-September 2011.
Elsewhere, Messrs Rahming and Krys said they were unable to rely on the accuracy of Montaque Capital Partners' internal management accounts, and that its audited financial statements for the year ending April 30, 2009, were not issued due to "material financial reporting weakness" identified by the auditors.
"The most recent internal financial statements were prepared as at April 30, 2011," the liquidators alleged. "The liquidators concluded that they could not rely on the accuracy of these financial statements as the balance sheet did not balance (debits did not equal credits), nor did it include positions owed to/from customers based on the customer account statements."
Messrs Rahming and Krys said they had yet to establish a value for the 635 share certificates, and one property deed, held in Montaque Capital Partners' vault for sake-keeping.
They added, though, that assets held by the company's correspondent brokers had increased by $3.3 million since the date of their first report.
Subsequent to their first report, when $3.2 million in total assets had been confirmed by Montaque Capital Partners' correspondent brokers, further confirmations indicated a total $6.5 million was held by them on the Bahamian/broker dealer's behalf.
Some $4.998 million of that sum, broken down into securities worth $3.105 million and $1.894 million in net cash, was held by Macquarie Private Wealth in Canada. The remaining $1.52 million, split into securities worth $1.509 million and $11,742 in cash, was held in correspondent brokerage accounts under the liquidators' control.
Messrs Rahming and Krys added: "The liquidators undertook an inventory of the stock certificates held in the company's vault, and located 635 share certificates and one property deed that were held for sake-keeping in the company's vault.
"Of the 635 share certificates found, 474 were issued in the names of customers of the company, while 161 were issued either in the name of MSI, the company or other entities in the Montaque Group."
Apart from two securities, all the share certificates were found by the liquidators to be assets held on behalf of clients.
Messrs Rahming and Krys also found $2.3 million worth of Bahamian securities in Montaque Capital Partners' records, and identified their owners and brokers.
The balance was broken down into $2.1 million worth of Bahamian securities held in the name of customers; some $190,709 held on clients' behalf by Montaque Capital Partners' related parties; and $92,500 which, though in the latter's name, were being held on clients' behalf.
The biggest chunk of the $2.3 million in Bahamian securities, some $1.578 million, were 187,493 ordinary shares in BISX-listed Commonwealth Bank.