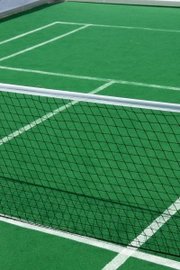 By BRENT STUBBS
Senior Sports Reporter
bstubbs@tribunemedia.net
WITH only three players entered in the draw, Dominique Mortier only needed to play one match to become the Bahamas Lawn Tennis Association's Junior Nationals girls 18-and-under singles champion.
Mortier, who was awarded a bye to the final on Tuesday at the National Tennis Center, took apart Adrienne D'Alewyn to win the title. D'Alewyn pulled off an impressive identical 6-0, 6-0 decision over Joyanne Carroll in their semis.
It was the only final completed so far in the week-long tournament that is scheduled to continue 9:30am today.
Mortier will get a chance to go for another title when she competes in the girls' 16s singles. She will have her hands full against rising young star Iesha Shepherd.
While top seed Mortier got past Gabriela Donaldson in one half of the semis, Shepherd got in by stunning No.2 seed Shim-Tonya Missick in identical fashion 6-1, 6-1.
The two players could end up facing each other again in the final of the girls' 14s, if they both advance.
Shepherd, the top seed, is set to face Sydney Clarke and Missick, the No.2 seed, is slated to square off against Donaldson, who was a finalist in the ITF Junkanoo Bowl Tournament last week.
By the way, Shepherd and Donaldson teamed up to win the doubles title in their category.
In the girls' 12s, top seed Clarke is set to play Sierra Donaldson in one half of the semis. The other half is all set to showcase Sydni Kerr against No.3 Afrika Smith. Their matches are expected to be played today.
And in the girls' 10s, top seed Donesha Gibson got a bye right into the final where she is slated to face No.2 seed Elanta Mackey starting at 9:30 am today. In her semis, Mackey shut out Kristin Major 4-0, 4-0.
In the boys' 18s singles division, top seed Kevin Major will contain with Shannon Francis in their semifinal match. The other half will pit Justin Higgs against Philip Major. The two semis will be played today.
Major is also the top seed in the boys 16. He got into the semis where he will play No.3 seed Malik Jones and in the other half, Shannon Francis will square off against No.2 seed Trajh Ferguson. Both matches will be played today.
In the 14s singles, top seed Justlyn Thompson will take on Joshua Turnquest in one half of the semis today at 9:30 am. The other will pit Doneil Wallace against No.2 seed Oneil Mortimer will be played later in the day.
The boys 12s will come down to a battle between top seed Jacobi Bani against Donte Armbrister 9:30am today for the title.
And in the boys' 10s, top seed Owen Taylor and Daniel Clivio will go at each other for the title today at 9:30am. Taylor ousted Ryan Fox 2-4, 4-0, 14-12 in their semis and Clivio upset No.2 seed Anthony Burrows 2-4, 4-2, 10-6.