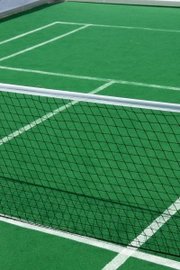 By BRENT STUBBS
Senior Sports Reporter
bstubbs@tribunemedia.net
IT IS quite unusual to see siblings playing against each other. But on Saturday at the National Tennis Centre, Nikkita Fountain teamed up with Jamaal Adderley as they won the mixed doubles title at the Bahamas Lawn Tennis Association's Hot Shot National Open Tennis Tournament over the team of Gabrielle Moxey and William 'JJ' Fountain.
The set scores were 6-7 (3), 6-3, 6-1 in favour of the more experienced combo of Mortimer and Adderley, the top seeded team.
"It was good. We started off kind of slow, but as we got into the match, we got a little more comfortable playing with each other because that was the first time we ever played together," Nikkita Fountain said. "I was missing a lot of returns and finally I changed my grip and I started to make my returns and that was the turning point in the match as we made them work harder for the points."
For the past two National Open tournaments, Nikkita and JJ Fountain played together. So when they decided to find new partners this year, they both knew that it was going to be a lot more challenging.
"Like any other sister, you don't want to see your brother lose, so I think it was rough for anyone of us to lose," she said. "We wanted each other to do well, so it was fun playing against him. He's always doing his best and trying his hardest. Plus he knows my game very well, which means I can't do anything to surprise him. I just had to work extra hard and not play tense because every point counts."
JJ Fountain said he knew that he was facing a formidable duo in his sister and Adderley. "She's good. She knows how to play doubles," he said. "I underestimated them. I was practicing all day and I kind of tired myself out," he said. "They pulled that one out. She sneaked this one on me, so I was hoping to put a beating on her for that, but she got away."
Not taking anything away from his older sister, Fountain said Moxey did what she had to do on her end of the court.
"I didn't expect her to play as good as she did," he said. "She really surprised me. She was hitting some big balls. She's definitely going to be a player to watch for in the future on the Bahamas Fed Cup team."
Nikkita, however, said she was thrilled to have teamed up with Adderley for the first time, especially after they fell behind 6-5 in the first set and once they lost in the tie breaker, they started to turn things around from the beginning of the second set.
"It was pretty good. We started off a little rough, but we got into the groove and we got into the match," he said. "It was good competition. JJ and Gabi played really well. But I think we just wanted it a little more because of our experience."
Having enjoyed himself playing with Fountain, Adderley said if the opportunity presents itself where they can team up again, he will certainly take advantage of it.
"It was tough because you had brother and sister playing against each other," he said. "So we had to dig down deep and get out of the second set. Once we did that, we knew that the match was ours to win."
If that wasn't enough, Adderley came back on Sunday and he pulled off a 6-0, 6-2 win over Fountain in their men's singles semifinal. Adderley, the top seed, is expected to play the final against Jody Turnquest on Tuesday.
Nikkita Fountain is also in the final of the women's singles. As the top seed, she will play Moxey, the No.2 seed, who advanced to the final with a 6-4, 6-4 win over Chelsi Russell.
"I'm looking forward to it," she stated. "It should be a lot of fun."
Today, however, the men's doubles will be highlighted. The top seeds are JJ Fountain and Neil MacTaggart and the No.2 seeds are Jamaal Adderley and Derron Donaldson, the new president of the BLTA.
The tournament is offering cash prizes to the winners.