By LAMECH JOHNSON
Tribune Staff Reporter
ljohnson@tribunemedia.net
A SUPREME Court jury heard that on the eve of Valentine's Day last year, a man dumped by his girlfriend followed her in a borrowed car from church to a traffic light and stabbed her with a knife.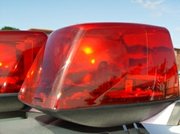 Prosecutor Eucal Bonaby, in his opening address to the jury, said he and colleague Aaron Johnson intended to prove Devon Adderley got out the car, stabbed Lashan Smith, and continued to stab as she tried to defend herself.
Adderley, 26, of Mermaid Boulevard, is facing a charge of attempted murder. It is claimed that on Sunday, February 13, 2011, he tried to murder Smith on Jerome Avenue and Chesapeake Road.
A police corporal on mobile patrol that day was one of two key prosecution witnesses yesterday.
He told the court how he and a colleague stopped at a traffic light and saw what appeared to be a woman in her car being repeatedly hit by a man outside the vehicle.
Corporal Shane Archer testified that a closer look made him realise the man was stabbing the woman.
"I observed the male in a red shirt, blue pants stabbing a female with a knife," he said, adding that it was a silver blade about six inches long.
"He was asked why he was stabbing her and he said, 'This woman had me locked up more than three times'," the court heard. The corporal said he checked on the woman, who was bleeding, and immediately after asking her name and date of birth, called for an ambulance.
Defending attorney Ramona Farquharson-Seymour did not cross-examine the policeman.
She did, however, question Cpl 2550 Adderley, who was also on mobile patrol and corroborated his colleague's evidence.
"Would it be correct to say you didn't see how anything started?" the attorney asked.
"No," he replied.
Mrs Seymour suggested to the witness that her client was next to the borrowed green Honda Accord, and not the victim's Altima, when he was apprehended.
The corporal disagreed.
Responding to the attorney's next question, the officer said he did not recall seeing Devon Adderley with any injuries.
"I suggest to you they [police] gave him some tissue at the station to clean himself up," Mrs Seymour said.
Cpl Adderley said no.
The attorney asked him how long he was at the scene before paramedics arrived.
He said: "About 20 to 25 minutes."
Referring again to her suggestion that the accused was not next to the Altima when police approached him, the attorney put it to the witness that her client was not attacking Lashan Smith.
"He stopped when I approached him," the corporal answered. "You didn't put that in your statement?" the attorney asked. "No," he answered.
Mrs Seymour said the jury should not believe that an officer with 15 years experience did not put such "pertinent" information in his report.
"Truth is, you shouted: 'Freeze! Police!' But he was already by the door of his car," she added. Cpl Adderley disagreed.
The trial resumes today.