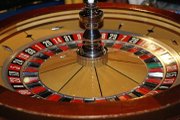 By AVA TURNQUEST
Tribune Staff Reporter
aturnquest@tribunemedia.net
BAHAMIANS should focus on liberalising the "numbers business" first before attempting to addressing the issue of casino gambling, according to Ed Fields, Kerzner International senior vice president.
While he noted it was also an "overdue" issue, Mr Fields said he sided with Baha Mar vice president Robert Sands that casino gambling should not be rushed.
"We need to go down that road, whether we're going down it two months from now or three months, we should be doing it.
"It should be a basic question on do you agree with liberalizing gambling for Bahamians," he said. "Now once that question is answered then the powers that be can start examining what we should be doing (next). Let's legalize it, let's tax the heck out of it, let's take some of those tax dollars and put it to helping people who might have an addiction, let's take the money and put it into education and arts and culture."
The contentious debate over whether or not the country should liberalize "web shop" gaming and establish a national lottery has stormed since it was announced that the longstanding issue would be put to a referendum before the end of the year.
There has also been criticism of the scope of the proposed referendum, with former prime minister Hubert Ingraham stating that the referendum should address gaming in its entirety.
The Bahamas Christian Council has accused the government of rushing a gambling referendum, while some local pastors have called for all gambling participation – including the participation of tourists in casinos – to be outlawed.
While he said he could not comment on the referendum's timeline, Mr Fields said a resolution on the issue was "long overdue".
"We took literally 50 years to get to where we are today with the institution of Bahamians not being allowed to gamble in casinos. We can't just overnight change that paradigm without there being some ramifications. So I 'm supportive of it but I think it's something that we have to take one step at a time."
"Liberalizing the numbers business," he said, "is something we are doing now and so let's get that off the plate and then we can have a discussion about casino gambling in terms of how you qualify to gamble."
In response to claims that liberalisation would engender a rise in addiction and other social ills, Mr Fields said that taxes would provide funding for counselling and related help.
"Not everyone who gambles is addicted to gambling, it's a small percentage like every other activity, sex, shopping, eating, not everyone is a kleptomaniac," he said.
"Right now as I speak there is zero dollars that is being committed to counselling people who are addicted to gambling, so let's just assume that there are a number of people who are addicted to gambling, well if we were taxing the numbers business or the gambling business then we could allocate a percentage of that to counselling and helping.
He added: "It cant be worse than what we have now."