By KHRISNA VIRGIL
kvirgil@tribunemedia.net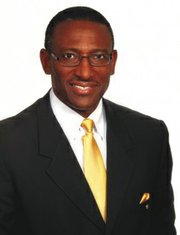 CONTRACTORS were paid inflated sums of money for government projects resulting in the suspension of several agreements, Minister of Agriculture, Marine Resources and Local Government V Alfred Gray revealed yesterday.
The contracts are now under review for two reasons: There was no scope of work for which contractors were obligated and there was no oversight on what they should have been doing, Mr Gray said.
"In fact, I have tendered to the Minister of Works (Philip "Brave" Davis) for audit. The works that have already been done and overseen by one of the government assessors, and this is in Inagua particularly, most of the contracts were over expended by thousands of dollars for the work that was done.
"In other words, it was purely a gift to their supporters. When a job as we saw it throughout the assessors eyes could have cost $1000, but they were given $15,000, so they are the kinds of contracts that were suspended."
Mr Gray's announcement comes two weeks after the government claimed the Ingraham administration issued more than 80 contracts that amounted to more than $24 million during the election campaign.
New Deputy Prime Minister Philip "Brave" Davis, who is also Minister of Works and Urban Development, said those contracts issued between March and May are also under review by the government.
Mr Davis told The Tribune: "The very recent contracts, the stuff that was given within the time of the dissolution of Parliament to election day, those are being looked at with a view of determining whether or not they are necessary worth at this time and whether the funding is in place for those contracts."
Prime Minister Perry Christie has accused the former administration of seeking to bribe voters with jobs and contracts. Although some allegations of bribery have been investigated no one has been charged.