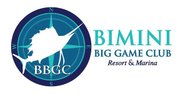 THE Bimini Big Game Club Resort & Marina's owners have unveiled as new logo design that will represent the 51-room property in all future marketing and branding initiatives.
The Southern California-based Hankey Group of Companies, owner of the Big Game Club, and Guy Harvey Outpost recently agreed to end the licensing agreement using the latter's branding.
Closed for two years, the Big Game Club, which was founded as a dinner club in 1936, was re-opened in 2010 following completion of a $3.5 million renovation funded by the Hankey Group of Companies. The renovation included all guest rooms, the new Bimini Big Game Bar & Grill, Hemingway Rum Bar and Social Lounge and the Outfitter Shop.
The Big Game Club, a 2012 TripAdvisor Certificate of Excellence winner, has announced plans to install a floating dock to accommodate direct-to-the-resort seaplane service and the opening of Bimini Water Sports, an on-site sports centre that provides a variety of new activities, including instruction and tours for stand-up paddleboarding, kayaking and kiteboarding, as well as boat rentals and yoga classes
The Hankey Group of Companies is a privately held financial services, real estate and insurance organisation based in Los Angeles, California.