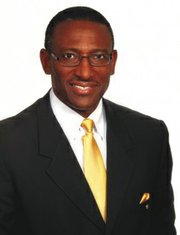 MICAL MP V Alfred Gray accused former Prime Minister Hubert Ingraham of trying to remove him from Parliament - and using the public purse to do so.
During his contribution to the Budget Debate yesterday, Mr Gray told Parliament that during the election campaign, Mr Ingraham gave out a number of jobs to residents of the MICAL constituency, in an effort to convince them to switch their allegiance to the FNM.
"He (Mr Ingraham), more than anyone else, seemed to have orchestrated the attempt to get me personally out of here; he targeted one or two others but I know I was the chiefest among them, but I am still standing.
"Looking back, the former prime minister used the public purse wrongfully, corruptly to seek to get rid of me - I challenge him to say it isn't true."
Claiming Mr Ingraham waited until April 2012 to hire people into the 52-week Job Readiness Programme in his constituency, Mr Gray said: "When you hire 200-plus people who never saw a pay-day in their lives, that's like magic, and it worked, in part it worked.
"Not only did he hire these people - which is good, I have no problem with those people who were hired, I only say that the purpose for which he hired them was corrupt - he should have hired them in June 2011 if had not been that he wanted to use it for election purposes. It is the timing that makes it corrupt in my view."
In addition, Mr Gray said, Mr Ingraham visited Inagua just days before the election, providing the Local Government Council with an influx of cash to use on local projects.
He said: "The $222,000 was sent to the administrator days before the election and in fact all of these 15 to 20 people whose names I have here were all hired without contracts - no scope of work, nothing to tell them what they should be doing - they were just paid out and told them to hire as many PLPs as they could find."
Rising to clarify, opposition leader Dr Hubert Minnis said: "The member is alluding that we were trying to hire just a certain group of people. In this entire process, politics was not involved - whether they were PLP or FNM was immaterial."
Mr Gray countered by saying that most of the funds handed out amounted to nothing but "thousands of dollars in gifts for work they could not do because it was not theirs to be done".
He went on to claim the process was "criminally corrupt" and "a sin".
Rising again to ask that these comments be withdrawn, Dr Minnis challenged Mr Gray to table his evidence in the House of Assembly and make it available to the public.