By SANCHESKA BROWN
Tribune Staff Reporter
sbrown@tribunemedia.net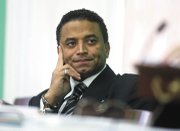 PARENTS should be charged before the courts and held responsible for their children's illegal activities, DNA Leader Branville McCartney said yesterday.
Mr McCartney said if parents are found liable for their children's actions when they are young, they will do a better job at raising them.
He said there are laws on the books that allow for this type of action and the new government needs to enforce them.
"In the Child Protection Act under section 125 an order can be made where a minor is found guilty but the parents are responsible. The parents pay a fine, damages or costs. Holding parents responsible for their children's actions is a start to combating the crime problem. The law is there for it. In the Education Act under sections 24 and 25 parents can be held responsible for their children not going to school. We have a lot of children that are not in school. If they are not doing what they are supposed to as a parent there are consequences for it. We do not have a disciplined society, we need to get disciplined. We need to ensure there are consequences," he said.
"We need to catch these things from young. A parent won't be saying 'my good son' if they are found liable for their sons actions. They won't be saying 'my good son' when they have to pay that fine. Those are only two examples. The law is there. We need to do something."
Mr McCartney said until the government starts holding parents responsible we will see a decrease in crime. Something he said the present government seems not to understand.
He said: "I thought the PLP would have had this in order. They campaigned on crime. They need to act on this. With them it's just the same old same old. They are just going through the motions. I am talking as a citizen. I want the government to get on it. I want them to deal with crime. I do not feel safe. Something needs to be done. We have a government that won handsomely. I think the Bahamian people must put their feet to the fire. We expect good governance. We just ended an election where they had promises upon promises. They said they will do certain things. The government must take the lead. They have the responsibility. They need to deal with it."
Mr McCartney said the recent announcement by the Minister of National Security, Dr Bernard Nottage that he will be holding town meetings on crime is a clear and "disturbing" indication that the PLP does not know what to do about crime and the fear of crime.