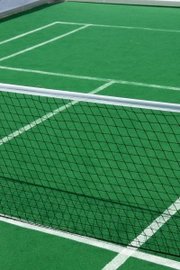 AFTER winning their first two matches with 3-0 sweeps in the American Zone III Davis Cup tie at the Shaw Park Tennis Facility in Trinidad & Tobago, the Bahamas men's national team lost their first match in the Group B round robin play on Wednesday.
The Bahamas lost 2-1 to Puerto Rico to drop to second place at 2-1.
Grand Bahamian Rodney Carey lost his opening singles 3-6, 6-1 6-7(5) to Dwayne Pagon, while Marvin Rolle won his singles 6-3, 7-5 to Brandon Burke.
Carey and Rolle then teamed up to play doubles where they lost 3-6, 6-1, 3-6 to the Jamaican duo of Pagon and Burke.
The Bahamas won its first two matches 3-0 over the United States Virgin Islands and Panama respectively and are scheduled to play Costa Rica in their final match of the round robin today.
The top two teams in the two pools will advance to Saturday's playoffs.