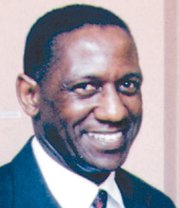 By NEIL HARTNELL
Tribune Business Editor
ALMOST 50 per cent of client assets at Owen Bethel's Nassau-based Montaque Capital Partners, which is reportedly insolvent with a $9.367 million net asset deficiency, are in jeopardy due to a Canadian institution's claim against them, Tribune Business can reveal.
Liquidators Ed Rahming and Kenneth Krys, in their report to the Supreme Court on Montaque Capital Partners' winding-up, said Macquarie Private Wealth (MPW), a Canadian broker/dealer, was claiming $3.4 million to cover a negative cash balance created by margin trades "in speculative stocks" initiated by clients of Mr Bethel's company.
To cover the shortfall, MPW had threatened to sell $3.4 million of the $5 million in Montaque Capital Partners' client assets held in its accounts in Canada, something Messrs Rahming and Krys have prevented - for the moment - by obtaining a freeze on these assets.
Elsewhere, the liquidators alleged that a forensic examination of Montaque Capital Partners' e-mails showed that fund redemption requests by clients were "frequently" met using money belonging to other customers.
And they also claimed that these e-mails showed formal complaints had been made to Montaque Capital Partners by customers concerned at the alleged "mismanagement" of their accounts, with these complaints "unresolved for extended periods of time".
And the report also revealed that some $4.97 million was owed to Montaque Capital Partners by related parties, including other companies in which Mr Bethel had an interest in, as at September 30, 2011.
For instance, Internet Protocol (IP) Solutions International, the company seeking to establish a 'triple play' communications infrastructure and operation throughout the Bahamas, was found to owe $177,412.
Mode Iles, the company that organised the Islands of the World Fashion Week show, was said by the liquidators to owe Montaque Capital Partners some $1.28 million as at September 30, 2011, while Bahamas FilmInvest International, another of Mr Bethel's entities, was indebted to the tune of $71,705.
Mr Bethel is a well-known figure in the Bahamian financial services and business community, having been executive director of the Bahamas Financial Services Secretariat and the Bahamas Investment Authority, prior to starting his Montaque business in 1993.
Montaque Capital Partners' fall into insolvency, and court-supervised liquidation, has surprised many in the Bahamian financial services industry. Mr Bethel, though, declined to comment on the liquidators' findings when contacted by Tribune Business yesterday.
"I don't think it's in my best interests for me to comment on the report," he said.
Messrs Rahming and Krys, meanwhile, said there was only $6.69 million worth of assets to meet unproven creditors claims against Montaque Capital Partners that were worth $14.891 million, leaving the company insolvent to the tune of $8.214 million.
Throwing in liquidator and legal fees of $912,218 and $214,046, respectively, and Montaque Capital Partners' solvency deficiency totalled $9.367 million - representing the gap between total assets and liabilities.
Following an initial forensic accounting investigation, the two liquidators said $157,000, or less than 2 per cent, of the total assets identified belonged to Montaque Capital Partners.
The remainder, held in the company's name but belonging to clients, totalled $6.5 million and accounted for 98 per cent of total assets. These were set against the almost $14.9 million worth of claims lodged by customers and creditors, another $1.4 million having come in since November 2011. Some 67 claims have been submitted.
A major problem, though, is that the majority of client assets are held by MPW in Canada, which is threatening to sell them to cover the $3.4 million shortfall. The Canadian broker is alleging it has the right to do this through a guarantee allegedly given by Montaque Capital Partners to secure the debts of an affiliate, Montaque Securities International (MSI).
"It quickly became apparent to the liquidators that the majority (approximately $6.2 million or 95 per cent) of the assets held in the company's brokerage accounts were located in Canada, and the majority of those assets (amounting to approximately $5 million or 81 per cent of brokerage account assets in Canada) were held with one specific broker, MPW," Messrs Rahming and Krys alleged.
The further noted that the assets held by MPW accounted for 77 per cent of Montaque Capital Partners' total assets, and added: "The liquidators understand that the $3.4 million deficiency of the net cash balance owed to MPW by MSI is the result of various margin trades made in relation to speculative sticks. The deficiency owed to MPW by MSI may vary in the future due to market fluctuations."
While Messrs Rahming and Krys had challenged MPW's claim, and prevented it from selling any client assets to-date, they warned: "The liquidators note that unless the dispute with MPW is resolved successfully, such that all of the assets held in the company's name at MPW are released to the liquidators, the total gross assets in the company's name at the brokers are limited to approximately $3.3 million prior to applying any costs of realisation or costs of the liquidation, as opposed to approximately $6.5 million if the liquidators' position is upheld.
"The value of customers' assets at stake (approximately $3.2 million) is therefore of significant importance to the amount ultimately available to customers."
While the assets held at MPW remain frozen, Messrs Rahming and Krys said they did not have access to them, and indicated it might be better for the clients involved to "bear the cost of legal proceedings" against MPW.
Elsewhere, the liquidators said they had managed to confirm contact details for 89 per cent of Montaque Capital Partners' listed clients, and reconcile 85 per cent of its brokerage accounts.
Referring to a review of the Bahamian broker/dealer's e-mail records, Messrs Rahming and Krys alleged: "This review identified instances where customers made requests to withdraw funds from the company.
"The e-mails also reveal that funds from other customers' accounts were frequently used to meet such withdrawal requests. The liquidators also identified e-mail correspondence which revealed that formal complaints were made to the company's management about the mismanagement of customer accounts, and such complaints remained unresolved for extended periods of time."
Pointing to serious back office and recordkeeping issues, the liquidators said customer account statements and those from correspondent brokers often failed to match up.
An inquiry into the reasons for this "identified incorrect security prices, and incorrect and/or omitted transactions (dividend and interest payment, stock exchanges, stock splits, purchase and sale of securities, redemptions) that were not included on the customer account statements".
Some $1.321 million is also owed to Montaque Capital Partners by its affiliate, Montaque Corporate Partners, the liquidators report alleged, adding that the former had also prepared statements in the name of Mr Bethel, his family members and companies affiliated with them.
"Based on interviews conducted, the company reportedly made several loans/advances to third parties, including a loan of $75,000 to a group of five Bahamians to fund a tourism/entertainment project, a loan of $200,000 to a friend of Mr Bethel, and an advance to a business colleague of Mr Bethel with a balance owing to the company of $5,806," the liquidators alleged, adding that they were continuing to probe related party transactions.