By S3S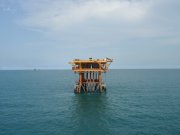 THERE is talk of substantial oil reserves existing below the waters of the northwestern Bahamas, particularly in the area that runs from south east of South Andros to west of Cay Sal to just south of western Grand Bahama.
It appears that the opposition party, the Progressive Liberal Party (PLP), for whatever reason(s), is enthusiastic about the oil exploration project whilst, on the other hand, the Free National Movement (FNM), again, for whatever reason(s), is rejecting outright the idea of oil exploration in the Bahamas as if it were a negative sum game.
At this early stage, however, the Bahamian people have been short-changed because it is not important which party or indeed whether any party accepts or rejects the project, or indeed the reason(s) for doing so.
What is important is that every party (whether in Government or not) cannot and must not prematurely accept or reject a project of this magnitude without a detailed National Cost Benefit Analysis and without which, the PLP is being irresponsible and the FNM myopic and premature in their actions.
A National Cost Benefit Analysis would review and weigh, inter alia, the costs and benefits of such a venture, before highlighting the options available:
The review must consider all costs, including but not limited to:
The monetary costs of the project (including the costs of personnel, some of the highest of any industry, the cost of specialist machinery, of extracting the oil, etc). A small group of UK investors has already raised the requisite start-up funds;

Economic impact (what will it cost the country? We would be naive to presume that such a project is a totally positive sum game for the country);

Environmental impact (we must steel ourselves for huge potential losses - will the Gulf Stream take away any spillages to the north or will the residue from a leakage spoil the pristine beaches of the major northern islands?);

The impact such a project would have on relationships with our two closest neighbours, Cuba and the US (as it turns out, both are oil producers, with Cuba currently producing in the region of 60,000 barrels per day, but a prime US tourist destination - Florida - is in very close proximity to the proposed operation). The fact they are both oil-producers suggests that any talks should be on "equal grounds" and easier than if they were not.
Then the review must consider all benefits, including but not limited to:
Economic benefits accruing to the country (these must come first and be guided by sound governance that ensures the country receives its fair share of returns as agreed at the design stage);

Economic benefits to the company (it would be churlish to disregard the entrepreneurs who have taken the initial financial risk to get the project off the ground);

Sociological benefits to the country (these would include but extend beyond social needs funds so that specific social objectives are agreed at the design stage).
Finally, the review should, if conducted properly, yield a full list of options, including but not limited to:
The market entry alternative to offer the BPC (whether to allow the firm to move forward as a wholly-owned subsidiary, as current plans dictate, or whether it would be preferable to insist on a joint venture (JV) to ensure that 50 per cent of everything is dealt with, in country (a la Saudi Arabia);

Specifically, how the country will move the project forward (whether as a public-private partnership, as suggested by a JV, or allow free rein to the investors, which may be ill-advised);

Specifically, how the country will deal with any outcomes (positive or negative) from the project, such as remuneration for neighbouring resorts;

What sunset provisions will exist to protect the country, in the event BPC consistently ignores its obligations and finally,

What will happen when the oil reserves are depleted (will BPC be allowed to pull out and leave rusting hulks of machinery in our waters to be hazards for seamen and eyesores for generations)?
A detailed assessment of costs also must include the realisation that we could lose a significant part of our tourist product (in other words, we must be prepared to lose possibly all of our Northern Bahamas tourist resorts, including San Andros, Berry Islands, Biminis, Grand Bahama and God forbid, Nassau/Paradise Island) because the planned drilling areas engage with the Gulf Stream's normal northward flow, which would take any spillages into Grand Bahama and possibly the Abacos before becoming a nuisance for points north.
The sum total of this destruction would be deducted from our Gross National Income (GNI), so one cost-related question that begs is: Are we prepared for this loss?
When we consider benefits, we cannot let ourselves become intoxicated by the supposed size of the resource because 4.27 billion barrels may sound like a lot of oil but it's really not.
At its peak before the recent bombardment by Britain and France, Libya was producing 1.5 million barrels of oil per day (Nigeria currently produces 2.2 million barrels per day).
Without a detailed and objective cost and benefits assessment, we cannot begin to debate the subject and any opining at this stage, will be done "in the blind" and be based entirely on emotion and cannot amount to a hill of beans, in my humble view.
What worries me greatly is that the current proposed Oil Exploration Project by the Bahamas Petroleum Corporation (BPC) seems to be well under way, minus any such study (or if one has been conducted, it certainly has not been publicised).
When I see a firm like BPC, having floated on London's Alternative Investment Market (AIM), known for risky ventures, I see a small but powerful group of well-heeled UK-based investors, which has raised successfully a very significant private investment, $50 million of which has already been sunk and which will be looking to get a healthy return on investment.
We cannot deny any such aspiration, but we must be clear on the terms at the design stage.
While even a small reserve could go a long way in helping us to reduce our growing national debt, we must not allow ourselves to become intoxicated by the possibilities because of the contrary evidence elsewhere.
All we need do is look at Trinidad & Tobago; shouldn't Trinidad & Tobago be a beacon for the West Indies/ Caribbean, indeed all small island developing states, given its vast resources of oil and natural gas?
The awful truth is that few countries have leveraged successfully petrochemical resources to create national wealth on the back of a sound economic development plan.
Yes, Norway and Mexico are two of the very few exemplars but what about the Middle East (where wealth is concentrated in the hands of a few families in Saudi, Emirates, Bahrain, Qatar, etc); and Africa, particularly, Nigeria (where corrupt public officials have allowed the Delta State - where the oil comes from - to remain the poorest in the country) and Equatorial Guinea (a relatively small country of 500,000 people who are some of the poorest in sub-Saharan Africa); Russia (which recently stopped making public the size of its sovereign fund); and East Timor (Indonesia has forcibly taken over the oil rich region). The average Gross National Income (GNI) for oil-producing Africa is a paltry $1,539 and for Nigeria, an unbelievable $390!
So, whilst the possibilities (either way) may seem endless and inviting, we must not automatically equate natural resources (est. 4.27 billion barrels) with national wealth; there are too many compelling examples that subvert this happy view.
On the other hand, we should not reject a project with significant economic potential because we know, even on the scantiest of evidence that good governance from the start (design phase), could make a difference (as in the case of Norway, which has the richest and most sophisticated Sovereign Fund in the world).
Somehow, I think the BPC proposed venture has not got off to a good start.
I am hopeful, although not optimistic, but would incline neither to advocate nor reject the project without a full and proper cost benefit analysis, which is needed urgently, if we are to avoid the curse of oil.
The PLP is being irresponsible in its apparent blanket acceptance of the project and the FNM is being short-sighted and premature in its rejection of the same; patently, we are not yet at this decision point.
(Bahamas Petroleum Company plc is engaged in the oil and gas exploration in the Bahamas. The company's portfolio consists of five petroleum exploration licences covering 15,676 square kilometers (3,873,546 acres) in the territorial waters and maritime Exclusive Economic Zone (EEZ) of the Bahamas. Its subsidiaries include BPC Jersey Limited, BPC (Falklands) Limited, BPC (Donaldson) Limited, BPC (Eneas) Limited, Bahamas Offshore Petroleum Ltd, Island Offshore Petroleum Ltd and Sargasso Petroleum Ltd. In January 2011, it acquired 1,120 kilometer of two-dimensional seismic over the southern licence areas. In September 2011, it acquired 3,075 square kilometer of three-dimensional seismic over the southern licence areas. On January 6, 2011, the company acquired 100 per cent of the issued share capital of BPC (Bain) Limited, BPC (Cooper) Limited, BPC (Donaldson) Limited and BPC (Eneas) Limited).