By LAMECH JOHNSON
Tribune Staff Reporter
ljohnson@tribunemedia.net
A FORMER policeman convicted of manslaughter will learn his sentence in five weeks.
Former Corporal Donovan Gardiner, who will return to court on June 5, could face up to life in prison for causing the death of 28-year-old Desmond Key.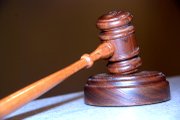 Yesterday, Gardiner's application to quash the conviction was thrown out by Justice Vera Watkins on the grounds it was filed at the wrong time.
In her written judgment, Justice Watkins said: "Having reviewed the circumstances on which the application is based, I am of the view that the applicant failed to raise the issue of failure to produce and provide various documents at the appropriate time and he also failed to seek redress at the appropriate time."
Had Gardiner raised the issues at an earlier stage, the judge said, "the court would have been in a position to address his concerns and issue the appropriate directions and orders.
"Further, the court would have been able to invoke the relevant provisions in the Juries Act and discharge the jury if it were deemed necessary."
She said the court is "no longer in a position to grant relief sought. The applicant must now seek relief sought in another forum."
Gardiner stood trial in Supreme Court for the January 19, 2008, death of Desmond Key, who died of pancreatitis at the Princess Margaret Hospital.
Key had been in hospital for seven months after being beaten with a baseball bat in a holding cell at the Grove Police Station on June 17, 2007.
Gardiner stood accused of hitting the detainee in the head and side with the wooden bat. On March 2, after two weeks of trial, a nine member jury found him guilty of manslaughter.
Immediately after the 6-3 verdict was handed down, defence attorney Wayne Munroe indicated his intent to file a constitutional motion seeking to have the conviction quashed.
At a hearing on March 20, Mr Munroe argued that the trial was not fair trial because the prosecution did not disclose Key's complete medical records and other documents important to the defence.
He asked the judge to publicly declare that the prosecution had breached her March 2011 order to produce complete medical records and throw out the conviction.
He also sought damages on behalf of his client, but the judge noted yesterday that Mr Munroe "did not address the court on the issue of damages. He indicated that he did not intend to do so.
"This is an indication that the applicant did not wish to pursue this aspect of his application and I make no further comment in this regard."