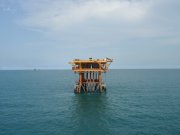 ALL five of Bahamas Petroleum Company's oil exploration licences were renewed last week until 2015 according to the company - under terms mandating that drilling begins within a year.
According to BPC's website, the renewal came into effect on April 27 and the terms include a commitment to "spud an exploration well" by April 26, 2013.
"The next renewal of the licences, due to take place on 27 April 2015, is contingent on the company having met its drilling and expenditure obligations during the current three year period," the website says.
This comes after PLP leader Perry Christie promised that if elected next Monday, his government will not allow oil drilling without gaining the consent of the public through a national referendum.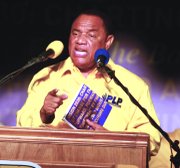 The PLP has been under fire for its connection to BPC, which used Mr Christie's consultancy services in the past, through the company's legal representative, the law firm of deputy leader Philip "Brave" Davis.
PLP candidate Jerome Gomez was also the oil company's manager in the Bahamas.
However, Mr Christie has denied he is still connected to BPC in any way, and threatened to sue over claims he is still a paid consultant of the company.
As for the FNM, although BPC claims the governing party did indeed renew its licences last week, Prime Minister Hubert Ingraham has repeatedly said no drilling for oil will take place in Bahamian territory until regulations and environmental safeguards are in place.
He said: "The approval of drilling for oil in the pristine waters of The Bahamas is among the most momentous decisions that any Government of The Bahamas will ever have to make."
Mr Ingraham called it a decision with wide ramifications that will affect the "very nature and essence of who we are as a country."
He said a government led by him "will not agree to any drilling for oil in the Bahamas until all necessary and appropriate regulations are in place and until we are fully and competently in a position to regulate such activity" in a way that protects the environment.
The Prime Minister said: "I am not unmindful of what happened in the Gulf off the coast of Louisiana just two years ago. And certainly we do not have the resources, human or financial, nor the billet, to respond as the United States government responded.
"We are not now in a position to so regulate and oversee drilling operations in our waters. My greatest obligation is to do what I think is the right thing to do at any given time to protect the best interests of you, the Bahamian people, and that of future generations."
Calls to BPC's Nassau headquarters were not answered and Environment Minister Earl Deveaux could not be reached before press time last night.