By LAMECH JOHNSON
Tribune Staff Reporter
ljohnson@tribunemedia.net
THE COURT of Appeal will make an historic ruling tomorrow in the cases of two men appealing their sentences after being convicted of possessing drugs with the intent to supply.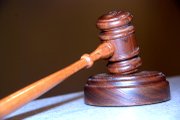 The rulings had been set for April 30, but severe weather and a leaking roof postponed a number of matters before the appellate court.
Anthony Armbrister and Andrew Davis are the first convicts to appeal the new mandatory four-year prison sentence for drug possession with intent to supply.
Armbrister, a penile cancer patient, was one of the first persons to receive the new, longer minimum sentence after the law was amended on November 4, 2011.
He pleaded guilty a week later to having 51 grams of cocaine with an estimated street value of $2,000.
He told Magistrate Carolita Bethell that the drugs were to be sold to pay his medical bills.
The magistrate said her hands were tied on the question of sentencing, because of the new law.
In December, Davis pleaded guilty to possessing six ounces of marijuana valued at $300. He claimed he was going to smoke it with friends.
On March 5, attorneys for Armbrister and Davis told Appeal Justices Anita Allen, Christopher Blackman and Abdulai Conteh that the four-year sentences were "excessive and harsh."
Both attorneys argued that the sentences were disproportionate considering the amount of drugs involved.
Davis' attorney Murrio Ducille argued that the new law did not entirely remove a magistrate's discretion regarding the minimum sentence for the offence.
He said despite his client having two previous convictions, he should not be in prison and that a fine was more appropriate in the circumstances.
Meanwhile, Armbrister's attorney Jomo Campbell contended that his client was a man of good character, having only one previous conviction for simple drug possession in 2001.
Deputy director of public prosecutions Franklyn Williams responded, saying despite the circumstances, the men pleaded guilty to a grave offence.