By CHESTER ROBARDS
Tribune Senior Reporter
crobards@tribunemedia.net
THE DEMOCRATIC National Alliance (DNA) has threatened to take legal action after a live broadcast of the party's most recent rally was cut short in favour of broadcasting a Progressive Liberal Party (PLP) rally.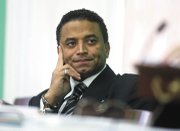 DNA leader Branville McCartney said the party would take action against Jones Communications, adding: "We had secured coverage by way of contract, then we got a call and Wendall Jones indicated that he would not give us the full time as agreed and were contracted for because he had to cover a PLP rally.
"He will be hearing from us on the legal side."
Mr McCartney said that Jones Communications originally intended to shave 30 minutes off of the promised coverage but later said its crew would take-off one hour.
Despite the setback on the last night of political rallies before today's General Election, Mr McCartney said he was confident his party had got its message out, after having, he said, campaigned in earnest for one year - longer than the other two major parties.
"There is a wave out there that will come to shore tomorrow," he said yesterday.
He said he was still confident that the DNA would win the election and form the next government.
Many of his candidates attended a church service at Mount Tabor Full Gospel Baptist Church yesterday where they received a blessing from Bishop Neil Ellis.
Verna Grant, whom the FNM decided wouldn't be renominated as Member of Parliament for Eight Mile Rock, also blessed the DNA recently with her endorsement. Her son, Howard Grant Jr., is the DNA's Candidate for Central Grand Bahama.
"We definitely welcome that endorsement," said Mr McCartney. "I think it's very good."
Mr McCartney stayed on message during his final "Rally For Change" at Arawak Cay on Saturday night, calling for better education, a stronger stance on crime and the ousting of the two major political parties that have "failed us and they should put their heads down in shame."
Jones Communications was not available for comment last night.