By LAMECH JOHNSON
Tribune Staff Reporter
ljohnson@tribunemedia.net
THE choice of the electorate left some supporters of the Democratic National Alliance frustrated and confused.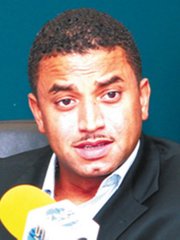 As election results began coming in around 6.30pm Monday evening, the handful of people gathered at the party's Prince Charles Drive head office were stunned by the numbers they were seeing.
By 8.45pm, absent DNA leader Branville McCartney had conceded defeat and noted that he would issue a statement the next day.
Before leaving the office, a female supporter said, "Ah well. Once they rid of Ingraham. Good night."
Two of the more vocal supporters did not hesitate to question the mental state of those who voted the Progressive Liberal Party into power.
Leonard Miller, 23, said the results had proven one thing - "insanity!"
"Our country has proven insanity! Insanity in that we voted PLP, FNM, PLP, FNM and they've proven to don't care about us, proven to show no interest to improve our economical situation, to improve our education situation.
"None of them have written down any plan to change our debt situation. The DNA has proven it but yet people are saying they don't want it."
Terrance Richardson, 41, said he was disappointed with Bahamian voters - many of whom, he feels compromised the country's future for material gain and pleasure.
He said: "We understood that Nassau itself has become a country, that it can be bought by money, partying and liquor. I don't think that we are concerned about the future, as a people. I feel the Bahamian people have left our principles and our morals behind some tree or some bush hidden somewhere.
"It says a lot about us that we've taken up - a country that was suffering in the five years under the FNM government - the same PLP government they said was incompetent prior to the previous government."
While the DNA was unsuccessful in becoming the government, the year-old party made history by pulling more than 10,000 votes from the 170,000 plus votes up for grabs, becoming the most successful third party in Bahamian history.