By LAMECH JOHNSON
Tribune Staff Reporter
ljohnson@tribunemedia.net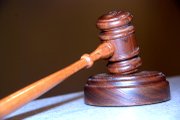 A JUDGE who gets "psyched up" for court proceedings has branded counsel who turn up unprepared a "nuisance and disgrace".
Justice Christopher Blackman hit out after he scolded a prosecutor for not having all of his documents available for the case of 23-year-old Foster Knowles yesterday.
Knowles, who has no attorney, was at the Court of Appeal appealing convictions for escaping lawful custody and unlawful firearm possession.
While Justice Stanley John said that he found this "frequent" occurrence of unprepared counsel amusing, Justice Blackman said he did not.
"I don't think it's amusing. I think it's a nuisance and disgrace," he said.
Knowles had told the court he had received concurrent sentences, 12 months and 42 months, for the crimes.
He could not, however, tell the court his trial date. The judges asked prosecutor Aaron Johnson for the information. Mr Johnson was unable to confirm if the trial had began last November.
Justice Blackman said: "Your notes should be able to tell you when the case was heard."
Then he lashed out saying: "I get psyched up for court and come prepared to work and this is what we have to deal with?"
The prosecutor told the judges that he did not have all of the documents relating to the case despite requesting them from the Attorney General's office a little over a week ago.
Justice Blackman said the court's date list for this period had been published as early as April 15, which he said gave the prosecutor sufficient time to get the information and documents he needed.
He adjourned the case to May 24.
In a separate case, murder convict Andre Dieujuste, 29, of Windsor Lane, told the court that he was appealing the conviction for the September 13, 2008 murder of Jason Smith.
He was unrepresented and asked for help. The judges noted the court would have an attorney appointed for him and put the matter down to July 3 for a status hearing.
Prosecutor Aaron Johnson told the judges that this appeal could be joined with an application from 28-year-old Edney Burrows, of Deveaux Street, who was both tried and convicted with Dieujuste.
They acknowledged the suggestion and said it would be dealt with on July 3 when Burrows is also expected to appear for a status hearing concerning appointed counsel.