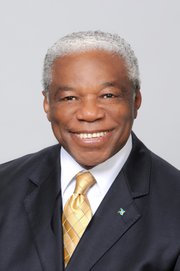 THE FNM has accused the PLP of being soft on crime after National Security Minister Dr Bernard Nottage said approaches had been made about the severity of sentences for criminals.
Dr Nottage said: "Everything is under review. A lot of the persons who have been -- I can't call them victims -- who have been convicted have made certain approaches to us about the severity of some of the sentences."
He said the Court of Appeal had 'given an opinion on that, so that is an area we will have to review.'
Last night the FNM said: "The PLP campaigned asking for stiffer sentences for criminals. After a week which recorded a record nine murders, the Government having consulted with convicts has now determined sentences enacted by the FNM are too tough.
"Even before Parliament convenes the Minister of National Security has shown that he intends to take a soft approach to various criminal elements.
"He appears more concerned about criminals than the victims of crime."