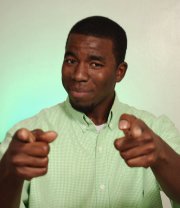 By ALESHA CADET
Tribune Features Reporter
FOR THE second time running, Bahamian martial artist and youth minister Darren Sears is bringing Christian believers a youth conference to teach and inspire young people about God's purpose for their lives.
This year the conference is leaving Nassau, and heading to Palmetto Point, Eleuthera, will participants will experience gospel music, martial arts demonstration and the word of God celebrations.
Held at the Salvation Army Church, the conference will begin at 6:30 pm on Saturday, June 2. Admission for the event is free.
In an interview with Tribune Religion, Mr Sears said his inspiration for the conference came from observing the many trials he sees young people go through today. In the world, he sees sorrow, pain and death all around him.
"I came to realize that those who see evil going on and do nothing about it are equally as evil as those who inflict with the sword of wickedness," said Mr Sears.
He said the Bahamas is losing its youth to drugs, depression, premature sex and violence. Everyone is complaining about it but no one is doing anything about it, he said.
"I want to make a stand with the power of God within me to change this generation. This world needs a David, a Moses, an Elijah, a Joseph and Samuel. This world needs Jesus," he said.
Mr Sears said he chooses to use creative measures to bring forth a source of inspiration in order to reach the young people, and " convict and mend" their hearts.
"I use the martial arts, music, drama and other creative forms of art," he said.
Thankful to God for this opportunity to be able to represent him in this way, Ms Sears said sometimes as ministers of the gospel, people get discouraged due to the fact that no one is bringing support to the vision.
"I believe that God will bring all necessary resources that will birth forth the vision he placed in our hearts," he said.
"For too long, the church has served God only in convenience. I tell you the truth, the true work of God will not be in your convenience, the true work of God takes effort, it takes sacrifice. We are so concerned about ourselves, what is going on in our lives, about our selfish motives and ambitions that we miss God. God is roaming throughout the earth looking for those whose hearts are perfect toward him," said Mr Sears.
He encourages Bahamians to accept God while grace is present and receive God while the chance is available. He said now and after the conference, he will continue to venture to serve God. He is also planning to host a conference in July.
"I pray my cry will touch the heart of at least one, to awaken a sleeping giant that will shake this world. I pray this day that these words be as blood, I pray this day that these words change the generation," he said.