By KHRISNA VIRGIL
Tribune Staff Reporter
kvirgil@tribunemedia.net
THE House of Assembly's proceedings yesterday turned into a brief heated argument with some members swearing at each other.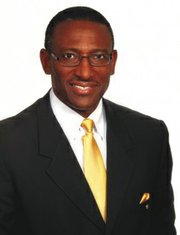 Deputy Speaker Dion Smith was forced to intervene reminding parliamentarians that debates ought not to contain "unparliamentary" language.
The row erupted between government MP's and a representative seated in opposition benches during Agriculture and Marine Resources Minister V Alfred Gray's contribution to the second day of discussions on the Constitutional Referendum Amendment Bill.
The opposition MP, who was seated, shouted across the House floor that she was angered by statements published on a local website about her intelligence.
Another seated Minister replied speaking of the member's physical appearance. The opposition MP responded snidely of the other representative's sexual preference.
Speaking again, the opposition MP turned her sights on another MP and responded this time swearing loudly enough that the Speaker and other seated parliamentarians expressed disappointment. They said that proper language had to be used in the House.
Deputy Speaker Smith then asked the member to stand, but the MP did not. He repeated his orders, but was told by the member that his order would not be followed.
"You can't order me to stand," the member said.
Mr Smith replied: "I am ordering you to stand because I am speaking to you. Can you stand please?"
"Member," the Deputy Speaker said, "I am only asking you to keep your comments low enough that I do not hear. It came loud enough of some very unparliamentary language just now. I am asking you to keep your comments to a minimum. It's interrupting."
Just last week, the House had to be adjourned for 15 minutes after opposition MPs were several times chastised for unruly behaviour.
The break in proceedings came after Opposition leader Hubert Minnis stood in the House to respond to Prime Minister Perry Christie's address on the referendum. The night before, his administration announced that the initially planned December 3, 2012 referendum would be postponed to January 28, 2013.
However, Dr Kendal Major interrupted Dr Minnis. He said he was not aware that the Opposition would be responding as the request had not been listed on the House's agenda.
Dr Major then asked Dr Minnis to take his seat, but he remained standing.
Government MPs shouted that the Opposition was quite aware of House rules. He said they should wait until their allotted time to speak.
Speaker Major then called for a brief suspension to speak with Opposition members.
Just before the call for adjournment, an opposition MP who was seated, disrupted the Prime Minister's communication.