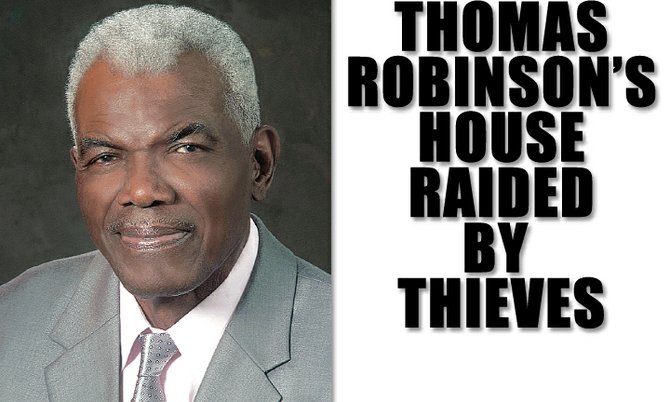 By KHRISNA VIRGIL and SANCHESKA BROWN
Tribune Staff Reporters
THE family of deceased Olympic track star Tommy Robinson are shocked that thieves broke into and vandalised their home, making off with thousands of dollars in personal belongings and mementos. 
Less than two days after Robinson's death, his daughter Erica last night told The Tribune that the culprits entered the home on Tuesday while they were out making funeral arrangements for her father.
The thieves completely removed the locks from the doors, she said.
The family is also upset at the police, who took more than two hours to respond after several calls were made.
According to Erica, officers said they had to deal with two other break-ins that night. None of the three incidents had been included in the daily crime reports up to press time last night.
The most hurtful aspect of the break-in, Erica said, is that the thieves helped themselves to items belonging to the track star before his relatives had a chance to collect them as keepsakes.
Robinson shared the home with his daughter.
She said: "They stole jewellery, cash, lap-tops and lights. No one was home because I was out all day. I came in and noticed that the bedroom had been left open and so that alerted me.
"I decided to find out what was missing. I have a six-month-old baby and some of her items were missing as well. 
"We filed a report (but) they didn't do any fingerprinting. The police took two hours to get here and I was concerned that someone was still in the house, so we waited outside with our neighbours.  
"We had to call them three or four times. On two occasions they hung up on us at the Fox Hill Police Station. Initially they told us that they had two other break-ins and that someone would be here when they could. I told them I thought someone was in there, and they said they'd send a car, after an hour they didn't so we called 919 and they hung up on us on two occasions."
Leslie Miller, BEC chairman and close friend of Mr Robinson said that the incident speaks to the crime situation in the country which continues to spiral out of control despite claims by officials that crime numbers are decreasing.
"I am completely shocked and I cannot believe this," Mr Miller said. "Tommy Robinson just passed away on Sunday and they have done this. All I can call them is low life scum-bags, that's what they are. How sad this must be for the family who have not even gotten the chance to morn the loss of their father in private."
The MP said that if the government does not deal with criminals seriously, it will be hard to tell where this country will be in years to come.
"Unless we take very drastic steps, this crime is not going to stop. The law must be enforced to the fullest extent," Mr Miller said.